Athlete Spotlight: Ferguson Leads Eagles Soccer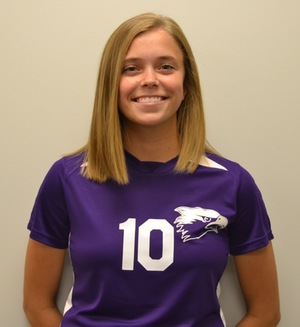 Name: Mikayla Ferguson Age: 19
Sport: Women's soccer
Favorite hobby? Hanging out with my friends,
soccer, watching "Grey's Anatomy."
Fun fact? I play the flute.
Why did you choose to play soccer at IVCC?
I chose to play soccer at IVCC because I felt like it would be a good way to get involved and to meet new people. Joining IVCC soccer helped me to meet one of my best friends! I like it because I still have time to do my homework and study, and I got to continue doing the thing that I loved.
What made you come to IVCC?
Financial reasons were a big factor. I was also not completely ready to leave my family and go live on my own; IVCC is a good steppingstone from high school to a four-year university.
Season goals?
My goal this year is to try to stay positive throughout the ups and downs. Right now in the season, we are 4-0, but that will
not stay the same for long. I am ready to be grateful when we win, but also respectful when we lose.
Personal goals?
A personal goal of mine is to graduate from IVCC and to go on to ISU to pursue my dream in become a middle school teacher. I am excited for this next chap- ter in my life, but thankful that IVCC will always be a part of my history.
—Interview by IV Leader Staff Writer Riley Johnson