IV Leader Hosts ICCJA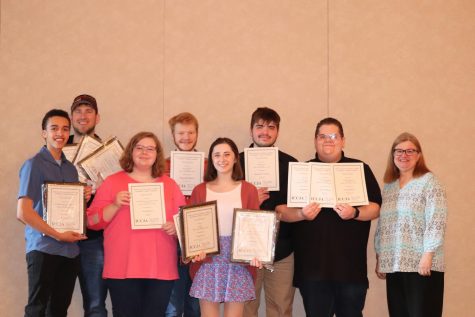 For the third straight year, IV Leader, the student newspaper at Illinois Valley Community College, was awarded the Mike Foster Award for General Excellence, the highest award presented, at the Illinois Community College Journalism Association's annual spring conference.
"AMAZING design, nice variety of content, great photography," the judges commented.
Sophomore Summer Hoagland-Abernathy of Ottawa serves as editor-in-chief for IV Leader and received six individual awards at the contest.
Student newspapers from across the state can earn recognition at the conference, which was hosted this year by IVCC at the Grand Bear Lodge in Utica. Some contest categories are based on enrollment while other categories are open to all newspapers across the state.
In addition to winning first place for general excellence in Division II, the IV Leader staff won several other awards
Awards winners, by hometown, included:
• La Salle: Frederick Becker III, thirdplace for sports feature;
• Oglesby: Mason Lucas, honorablemention for sports news;
• Ottawa: Summer Hoagland-Abernathy, first place for arts review; third place and first place for front page design; honorable mention and third place for news story; second place for page design; Kacie Cusick, third place for graphics.
• Peru: Tyler Towne, honorable mention in multimedia story; Jacob Steinberg, second place for sports news and for sports feature and third place for sports column; Alexandria Benne, third place for editorial cartoon
• Utica: Kyle Russell, rst place and second place in feature photo; first place and second place in newsphoto; and first place in sports photo.
IVCC also was represented by students who presented sessions at the conference. Hoagland-Abernathy coordinated the editors' roundtable while Matthew Klein of Peru presented on drone photography.
Local journalism professionals including Scott Anderson and Ali Braboy from the NewsTribune, Brent Bader from the Times and Sean Frey from WCMY also presented sessions as well as IVCC instructor Paul Butler and former IV Leader editor Martha Hoffman, who currently is a student at Northern Illinois University.
Lori Cinotte, journalism professor, is the faculty adviser for the student newspaper.