Softball hopes for strong regional story.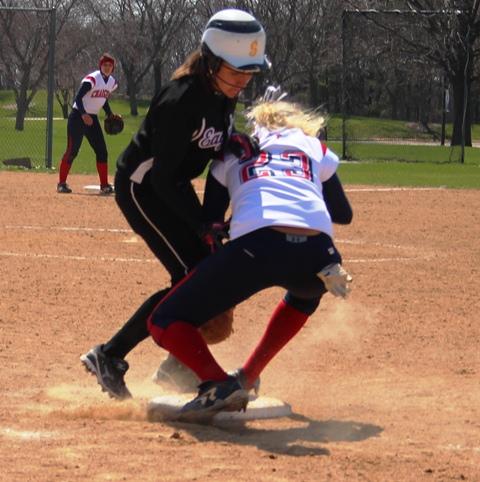 Update: IVCC defeated Black Hawk 1-0, 3-5, 8-7 at home to move on in the regional tournament. They will play in Freeport at noon on May 3.
At press time, the IVCC softball team sports a 18-13 record, including 13-7 in the Arrowhead Conference as the team heads towards regional play.
The Eagles started the second half of the season on a high note, defeating the Kishwaukee Cougars 10-7 in Malta on April 11. For IVCC, Paige Hill went 4-4 with a double and scored four runs. Olivia Harcar had three hits for the Eagles, Lindsay Schmitz and Katie Nauman each had 2. Karly Huss was great in relief, pitching three innings of one-hit ball and striking out two batters.
IVCC swept the doubleheader by beating the Cougars 7-2 in the second game. Paige Hill picked up the win, striking out five over five innings. Micky Fassino had a three-run triple, Schmitz and Nauman each picked up two RBI in the game.
The weather struck in a big way, flooding the field and postponing two doubleheaders, one against Carl Sandburg and the other against Black Hawk College-Moline. The doubleheader against Sandburg was played on April 21. Both games of the doubleheader went into extra innings, but IVCC eventually lost both of them. The final scores were 8-3; 7-5.
In the first game, IVCC rallied from a five-run deficit to force extra innings. A scary moment in the first game, Sandburg's Grace Cleair was injured sliding into second and was carried off the field. The severe injury will end Cleair's season as she suffered fractures in her ankle and leg.
On April 22, IVCC hosted a doubleheader against Elgin and won both games 19-9; 17-6. Nauman and TJ Chapman each had 4 RBI in the first game. The Eagles had a banner day offensively, putting up 16 hits, four stolen bases, and most of that game win the final five innings.
IVCC then went on the road to Highland Community College on April 23 and lost both games 6-2; 7-2. Chapman had a triple in the first game and 2 RBI in the second.
They finished out the regular season by winning a doubleheader against Black Hawk on April 27 10-9; 4-3 to claim the second seed in the NJCAA Region IV tournament.
The team opened regional play April 30, after press deadline, against Black Hawk College in a best of three series.