IVCC Holds Trans Speaker for Transgender Day of Visibility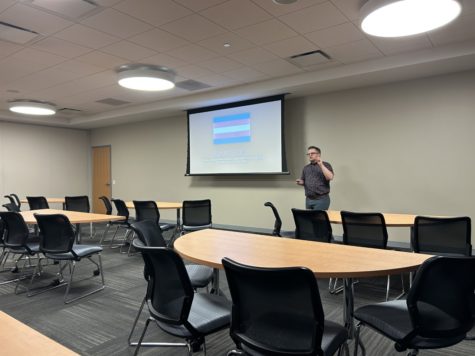 On March 31, IVCC had Aiden Ethington, former Alum and trans activist, spoke about issues affecting transgender people for international Transgender Day of Visibility. Transgender Day of Visibility is movement that started in 2009 meant to celebrate the lives and contributions of transgender people around the world.
In light of recent legislation passed around the United States that negatively affects transgender people, Ethington's presentation focused mostly on these issues, as well as some of his own experiences.
This year has seen unprecedented amounts anti-LGBTQ+ legislation introduced around the country, with 380 bills introduced this year alone. In comparison, there were around 300 bills of this nature introduced in 2022.
These bills range from bans and restrictions on drag, healthcare, gender-affirming care, school curriculums, participation in sports, and public accommodations.
Ethington used himself as an example of what having access to these forms of care can do for trans people. Ethington would tell a story of going swimming after receiving top surgery and how he finally could feel comfortable in his body, saying, "I felt like I went swimming for the first time."
Illinois has shown itself to be a friendlier state for transgender people, as it is one of only 8 states and US provinces that has not introduced any anti-LGBTQ+ legislation this year, yet despite this the growing anti-trans messaging causes many to worry about their future.
Ethington also placed an importance on emphasizing trans joy as a trans person and taking pride in finding who you are. This includes loving yourself in a body that is yours and having supporting friends and family, for Ethington, he finds this in his son.
"He's my number one fan," said Ethington.