IVCC celebrates Women's History Month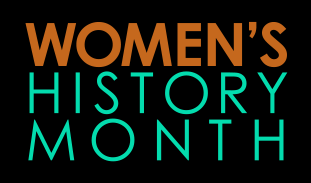 Marching into this month, we honor the women that have made history and their accomplishments that have made a huge impact on society today. Women like Marie Curie, Rosalind Franklin, and Katherine Johnson worked to bridge the gap between men and women. We were able to put a man on the moon because of the work of mathematician Katherine Johnson, and the discovery of radium was thanks to Marie Curie. We also know of the double-helix structure of DNA because of Rosalind Franklin's work with Watson and Crick. All of the contributions that women have made throughout the years have let us women be able to have more freedom and we are now treated as equals alongside men because of their achievements.
For Women's History Month, Illinois Valley Community College is hosting various events and panels via Zoom throughout the month of March that all students are able to attend. One such event that students can participate in is being held by the Jacobs Library through their One Book, One College project which is currently discussing Ibram X, Kendi's book, "How to Be an Antiracist." The next meeting will be over Zoom and will discuss Chapter 7 through Chapter 11.
In accordance with the month, librarian Jayna Leipart Guttilla says, "One of the chapters being discussed is over gender, and another is over sexuality." For students interested in attending the Jacob's Library event, the next discussion will be held on Wednesday, March 24 at 2 p.m. on Zoom. The link to the Zoom meeting can be found on the Jacobs Library website under One Book, One College.
For those who would like to learn more information about Women's History Month and the different contributions and accomplishments women have made in American society and their histories, Jacobs Library offers a guide on their website under Library Displays linking students to different resources and websites as well as a multitude of books relating to Women's History Month and various other topics pertaining to women.
IVCC will also be holding another event happening in which "Our Keynote Speaker, Karli Johnson, will be giving a Zoom Talk on Monday, March 22 at 2 p.m." according to Amanda Cook Fesperman, Professor of Political Science/History at the college. Karli Johnson is an advocate, nationwide speaker and educator who speaks on a myriad of topics and aims to empower and educate others. All students wanting to join can do so through the Zoom link that will be available on the Diversity, Equity, and Inclusion Committee's website on the college's page.
Other events for Women's History Month at IVCC are still currently in the process of being planned. Students may check IVCC's event calendar or the DEI's website for updates.