Golfers qualify for national tournament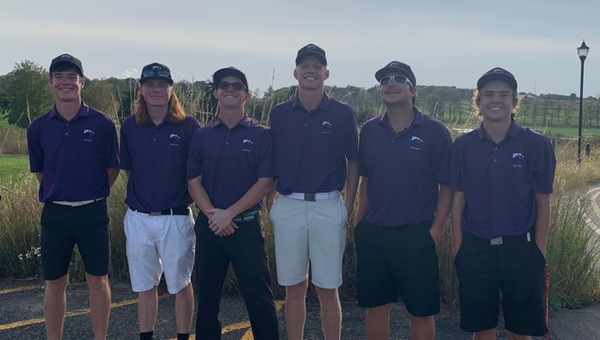 For the second year in a row, the IVCC Men's Golf Team has qualified for the Division II NJCAA National Tournament.
The Eagles team score of 925 placed them in third place behind Bryant & Stratton (917) and Black Hawk College (922).
IVCC sophomore Ian Roach led the way for the Eagles by shooting a 227 over the three days. Roach medaled for a fifth place overall finish.
The National Tournament is being held at Twin Hills Country Club in Joplin, Miss., from May 17-20, 2022.
Roach, a Putnam County graduate, said the team's goal this entire year has been to qualify for the national tournament.
"It felt really good to qualify for nationals again for the aspect that we will have a chance in the spring to play well at nationals, and there are a lot of memories that go along with going there just like last year," Roach said.
Despite his fifth place overall finish at regionals, Roach was disappointed with his play in the tournament.
"Personally, I was not very happy with my performance in the last two rounds of the tournament since my ball striking was very poor after shooting a very good first round," Roach commented.
Roach shot a 69 in the first round, followed by an 80 and a 78.
Ryan Dulin, a freshman, scored 234, while freshman Aydin Folker shot a 235. Both sophomore Ben Cyr and freshman Jack Lockard carded a 238.
Still, the Eagles' third-place finish qualified the team for the national tournament in May, which the golfers are looking forward to.
Last year, the team finished 14th at Nationals while Roach individually placed seventh.
"We expect… to play better and place better than we did last year," Roach said. "Obviously for me I'm going to go try to win the thing because I'm 100 percent capable."
"But overall, I think we'd all like to think to ourselves that we played good golf and were proud of it after the tournament's ending." Roach, who would like to transfer to a four-year school to play golf, has set individual goals as well for a four-round score.
"I'd like to win it with flying colors and be around 8-12 under for the whole tournament," he said. "That is, of course, before seeing the conditions and such, but I have to prove I'm worthy of transferring."
The team is coached by Sean Kennedy.