Men's golf qualifies for nationals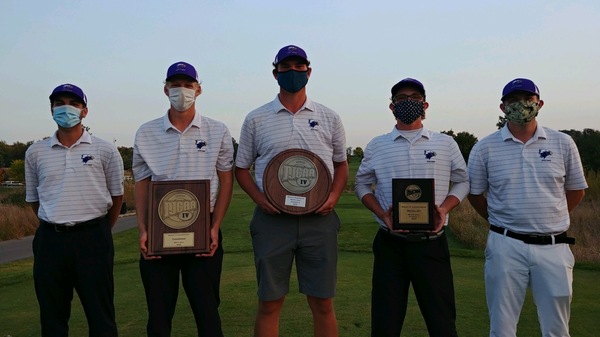 The IVCC men's golf team carded a three-day score of 973 at PrairieView Golf Course in Byron to place second at the NJCAA Division II Region IV Tournament and to earn a berth in the national tournament in May.
Putnam County alumnus and IVCC freshman Ian Roach won the event with a 229.
Fieldcrest alumnus and IVCC sophomore Clay Wells tied for fifth with a 239.
"Despite the challenges every team has been given this year, we were able to make the best of a difficult situation," Wells said. "Our entire season was based around getting everyone acclimated to playing at the collegiate level in order to make a great showing at the region tournament, and we did just that. We started out the season with a win at the Heartland 36 and managed to grab another at the Region 4 Preview tournament. With these wins and a few other great showings as a team, in some difficult tournaments, we gained the confidence we needed as a team to really believe we could find our way to Nationals."
Rounding out the scores for the Eagles were Putnam County graduate Ben Cyr (248), Fieldcrest alumnus Nick Mariotti (262) and Bureau Valley graduate Trent DeVenney (271).
"This team set a goal and the entire season was about getting to the national tournament," IVCC coach Sean Kennedy said. "We played very tough venues, we worked hard ,and it all came together. I'm super excited for my five players. They set a goal and got there."
Wells gave credit to Kennedy's coaching as a key to the Eagles success.
"Coach Sean did an excellent job in helping us see the bigger picture," Wells said. "We knew that no tournament was ever over until every team had come in with a score, so even if our tournament or round wasn't going so well, we just needed to keep a positive attitude and continue to compete as hard as we could because it is never over until it is over."
Wells said Kennedy kept the team prepared with a solid game plan, which helped team members to maintain their patience even in difficult conditions.
The Eagles will compete in the NJCAA Division II National Tournament on May 18-21 at Swan Lake Resort in Plymouth, Ind.