Lady Eagles look to three-peat as conference champions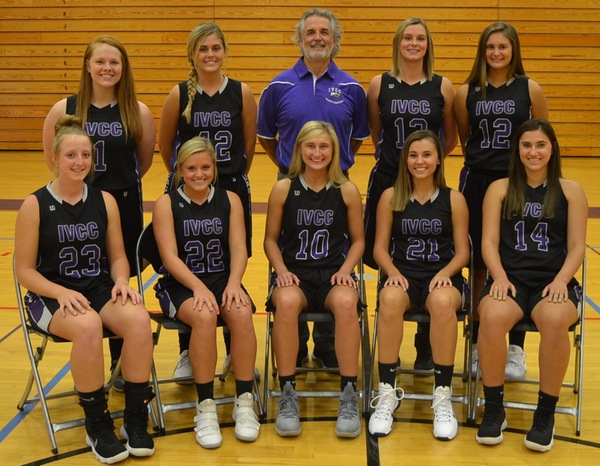 Mason Lucas, IV Leader Sports Co-Editor
October 11, 2018
With every October comes fall weather, Halloween, and the return of basketball.
The IVCC Lady Eagles basketball team is set to return to the court on Oct. 13 to defend their back-to-back conference championship run. The Lady Eagles finished 18-11 last year with an 8-2 record in conference, giving them a share of the conference championship for the second straight year.
The team is looking to repeat another conference championship run but must do so without key players from last year's team.
Coach Tom Ptak said, "That's the goal. Our returning [players], their mindset is let's go get it. Let's do that."
One team statistical leader lost was Julia Pohar. Pohar averaged 21.4 points per game (ppg) which lead the team. Pohar was also named MVP of the Arrowhead Conference and was a NJCAA All 3rd-team selection.
Another statistical leader lost was Quincie Weber. Weber averaged 11.5 ppg and 10.5 rebounds per game (rpg). She was second on the team in scoring and led the team in rebounding. In all the Lady Eagles lost six sophomores last year, including Hunter Wright, Lauren Tomasson, Paige Talty, and Cassidy Murphy.
Coach noted that those are some big shoes to fill, with losing Pohar who was a prolific scorer and Weber who was big for the team in rebounding. "We are losing some big numbers but that's always the challenge, I think for the kids returning from last year. That's kind of their incentive. They know what needs to be done and they will step up."
The Lady Eagles however, bring back some returning talent, most notably, Rachel Moraski. Moraski was third on the team in scoring with 10.3 ppg. She also averaged 1.5 steals per game (spg), and 5.9 rpg. The Lady Eagles also bring back Jenna Lusietto, Lexi Marx, Maddie Dougherty and Haylie Barrera.
Ptak also noted that the returning players are excited to step-up and have been putting in a lot of work in the off-season to get ready for the upcoming season.
The Lady Eagles have also brought in freshman talent this year. Five new players will compete for the Eagles this season. One of the new players is Presley Hatton, who averaged 12.1 ppg and 7.2 rpg at Putnam County high school. She also earned Tri-County All-Conference honors.
Blair Bullock is another talented incoming freshman, Bullock was an IBCA 1A/2A all-state honorable mention. She averaged 16.7 ppg and is the fourth all-time leading scorer in Kewanee school history with 1,279. Guard Gena Fassino, center Zoe Piano from La-Salle Peru Township high school, and Emily Cook from Leland-Earlville round out the talented freshman class.
Ptak is excited about what each player brings to the team in terms of shooting, rebounding, ball handling, and so forth. The team will continue its space and pace offense from last season, and Ptak stated their biggest concern is rebounding and defense.
Ptak also stated that they have been working on both right from the start.
"This year, overall, we'll be faster. We are going to struggle with rebounding, but we will be faster and have better shooting… and we been really focusing and defense."
The team starts their season on Oct. 13 with a three-game jamboree in Rockford.