Eagles look to live up to potential expectations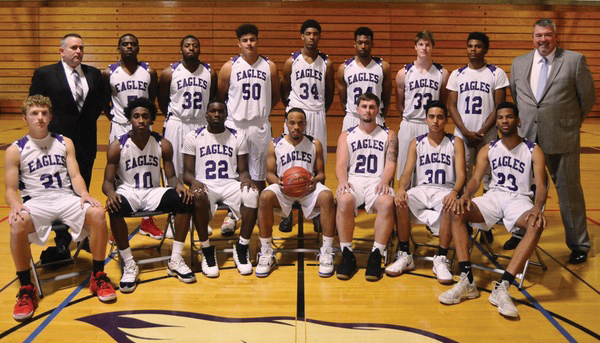 The IVCC Men's Basketball team is on the hunt for redemption after a frustrating end to last season.
Finishing last season 19-13, the Eagles lost to the eventual national champions Triton College in the Region IV semifinals. Coach Chris Herman is sees potential areas of improvement this season in areas where the team struggled last season.
"I think we got a little bit more depth than last year, but it is still yet to be seen as far as how well we are going to rebound," said Herman. He also stated that the team has better all-around shooters than last year.
The loss of Keymonta Johnson, the leading scorer and rebounder from last season, and Isaiah Tubbs left a big void in terms of leadership and production. Herman is counting on returning sophomore Ty Bland to take over the leadership role.
Bland is a streaky shooter with great body control. He averaged 14.9 points per game and shot 42.8 percent from the floor in his freshman season. After showing flashes of his potential ceiling last season, Bland put work in during the offseason to better condition himself for a role like this. "I worked on my jumper, I need to make that more consistent, and trying to get to the hole," said Bland.
"He's gotten stronger and really scoring the ball well in the preseason," said Herman. "He has the chance to be a really good player." Bland is poised to be a leader this season and is willing to take on the challenge.
Another returning sophomore that Herman is high on is R.J. Thaxton. Thaxton played well last season when he came off the bench, though it is evident in Herman's eyes that he has improved his game over the offseason. "He's improved his offensive game," said Coach Herman. He is finishing and shooting the ball better than last season, according to Herman. Other returning sophomores include Julian Jones, Vyshonn Munson, and Kahlil Brummett.
On the other hand, Coach Herman recruited nine new freshmen for this season. He has recruited heavily out of the area as he usually does: Yansyn Taylor, Avierre Ross, and Connor Wilson are the focal point of the out of area class that Herman has assembled. Wilson, who recently transferred from Heidelberg University, is a knock-down shooter who boasts a ton of potential. "He could be a kid that starts or comes off the bench… pretty good athlete," said Herman.
Herman has also put a larger emphasis on local recruits as well. Rahim McKee-Strong, Joel Pantoja, Mitchell Vickers, and Joe LaShonse highlight the out of area class that Herman gathered. McKee-Strong, a six-foot-six forward from DePue, will primarily play in the post. "He's definitely going to have to play well for us to play successful because we are slim at the power forward position," said Herman. "I'm hoping he's going to play well. He brings some pretty good energy… when he plays hard he's a handful, the type of kid you don't like to guard in the post."
The freshman class Herman assembled possesses a lot of potential. Due to thin number of forwards, the Eagles will be switching to a dribble-drive motion offense this year. The defense will remain man-to-man, but Herman will explore zone defenses throughout games.
Herman is excited about the upcoming season. Though there is excitement in the air for the team, Coach Herman said their schedule is the "toughest yet." "We don't have any J.V. teams on our schedule, and we have Parkland coming in here." In addition to Parkland, the Eagles will be making a road trip to Kirkwood Community College in Iowa, a top ten team.
Despite the tough schedule the team is facing, Coach Herman is not holding back his big expectations for this season. "We talked about team goals, to win 20 would be outstanding. I think our schedule is more favorable because we've got more home games."
The Eagles started their pre-season on October 7 with three running clock scrimmages against Lake Michigan Community College, Moraine Valley, and Wabash Community College. The team officially starts their season on November 3 in a home match-up against Morton College.