Turnover woes have Eagles chasing conference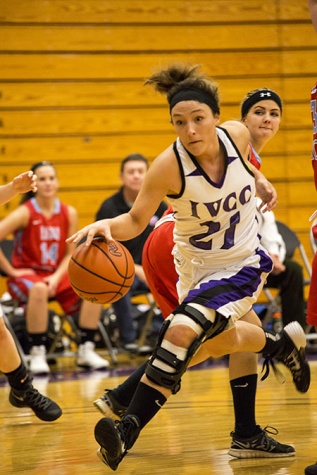 With less than a month left in regular season play, the IVCC Lady Eagles have nearly tripled their win count from last season. With several roster changes, the Lady Eagles have managed an 11-10 record throughout the season.
A likely catalyst to the girls' success is the return of sophomore guard Daniela Pavlovich from an injury that cost her to miss the majority of last year's season. According to the NJCAA's website, Pavlovich is fourth in the nation in steals at 4.8 a game, accounting for almost half of her teams steals.
To add to that, she also has 15 games in which she has scored double digit points, one of which came early in the season against Morton College when she dropped 41 on the Panthers.
Though Pavlovich is having a remarkable scoring season, freshman center Hannah Wolfe has piled up some incredible numbers as well. Wolfe averages 12.6 points and 10.5 rebounds per game, with 10 double-doubles on the season. She leads the conference in rebounds per game, while having a team high shooting percentage of 48.1.
Another thing the Lady Eagles do well as a team is shoot free throws.  A conference high 70.8 percent, the girls have improved substantially from the dismal 53.6 percent they were hitting from the line last season. This has helped the girls have their best season in points per game since 2012, when the team was 22-9.
Even with the success that the girls have found, there are pitfalls that have caused the girls some trouble in the beginning of conference play.  The girls currently rank fourth with a conference record of 1-4 and lost all four conference games by single digits.
In recent one point losses to Kishwaukee and Highland, the  Lady Eagles struggled to make 3 point shots, and turned the ball over an astounding 53 times between the two games.
Turnovers have plagued the Lady Eagles, finding themselves negative 9.6 in turnover differential with 22.8 turnovers per game, the worst and second worst marks in the conference respectively.
That along with the girls posting below season average rebound numbers in conference games have proven to be factors which they would need to turn around if they hope to catch conference leading Black Hawk East and Carl Sandburg, who have both come out with a great early start to conference play.
Amongst all the challenges this team hopes to overcome team will be missing freshman forward Emily Hoscheid to an ACL injury. Hoscheid started 17 games for the Lady Eagles and averaged over 5 point and 5 rebounds per game. This departure brings the girls roster to seven.