Eagles worth watching; Lady Eagles softball turning up heat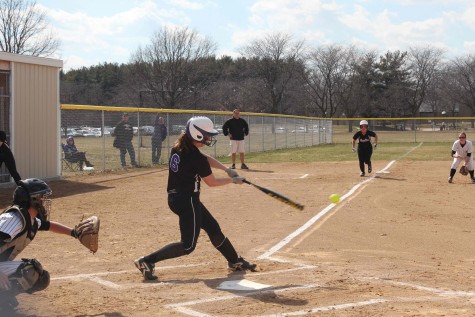 IVCC softball started season play with a spring break trip to Florida where this year's team went 2-3 in games that counted towards their record.
Since coming home, though, the Eagles have gone on a six-game winning streak all against conference opponents, bringing their record to 8-3 overall as of press time.
Cory Tomasson, the head coach of the Eagles, attributed the team's early success to their versatility and execution of the things they have worked on.
"Our pitchers are throwing strikes and not walking many people, our hitters are putting the ball in play, and we have minimized our errors on defense," said coach Tomasson.
The Eagles' efficient pitching has been at the hands of freshman Tracy Ellis and sophomore Liz Whitaker. Ellis has an ERA of 2.10 in the five games she has played while both pitchers have at least 20 strikeouts lead by Whitaker with 25.
The Eagles have been efficient of late winning their last four games by 5 or more including a 13-5 win in the 5th inning over conference opponent Carl Sandburg. "Execution is the key. We have practiced a great deal through fall and spring in order to learn and get comfortable with plays and situations," said coach Tomasson.
Tomasson has taken advantage of his depth and versatile talent, giving all his players a piece of game action. Sophomore Katelyn Johnson has 9 RBI's and a hitting average of .471 accompanied by sophomore catcher Chrissy Pond with 7 RBI's and freshman second baseman Brenna Faletti with a hitting average of .576.
"This is the most cohesive team I have had at IVCC," Tomasson explained. "These players support each other on and off the field. Having that bond and knowing that someone will step up is so reassuring."
Tomasson attributes this team's effectiveness on and off the field to the sophomores who are leading by example and producing on the field.
"My expectations are high for this team, because I know what they are capable of doing. If they play cleanly, they will be very hard to beat. I truly think that they should win the Arrowhead Conference. However, our goal is to always make it to the Region IV final four in order to have a shot at Nationals," said Tomasson.
The majority of the Eagles' season is ahead of them along with their goals; Tomasson made it clear on how to keep winning and moving in the right direction: "Stay focused and have a strong desire to win."
So the Eagles will try to hold on to the spark they started so early on and keep moving towards their goals base by base.
Leave a Comment