Blumhorst & Arteaga: Student-athlete duo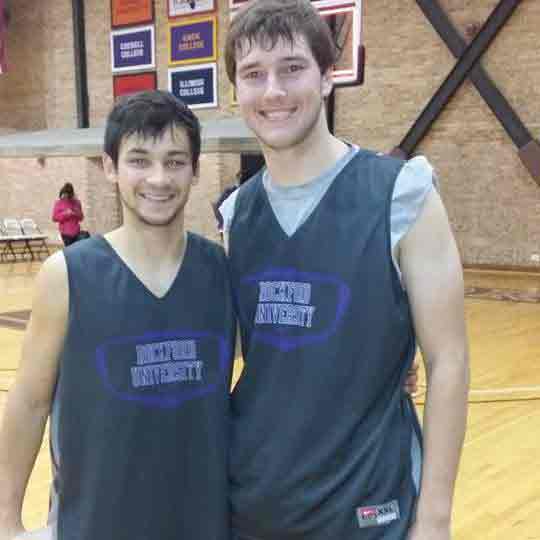 Becoming a successful student takes a lot of hard work and dedication. Many people don't realize the extent of this until they experience it themselves. The same concept applies to becoming a successful athlete.
Trae Blumhorst and Ross Arteaga, two former IVCC student-athletes who are now attending Rockford University, know exactly what it takes to be victorious in these roles. Not only have they been teammates at IVCC and Rockford University, they even played together at Mendota High School, which is when they struck up a close friendship, largely thanks to their shared passion for basketball.
Although they may be in similar places now, they did not get there the same way. Each one of these young men have taken very different paths to get where they are and to become the people they are today.
Ever since he was a baby, Trae's life has always been involved with basketball. He has attended the IHSA basketball tournament every year he's been alive, which eventually led him to playing when he was of age. Ross, on the other hand, says he "was mainly only a baseball player until his eighth grade year, when he started his basketball career."
Trae claims he always had a vision that he would play college basketball one day; however, he never expected his dream to come true and to accomplish what he has throughout his athletic career.
Ross grew up with baseball as his No. 1 sport, so he did not expect to go as far as he has gone with basketball either. They are both very thankful for the opportunity to still be continuing their careers in a sport they enjoy playing, especially since it has helped give them an opportunity to pursue their academic goals as well.
The two student-athletes have a much tighter bond together due to their past history of playing at Mendota and IVCC, and also because they seem to have very similar interests and goals. This tight friendship makes their experience at Rockford even more memorable and enjoyable because they spend time together even when they are off the basketball court.
Trae credits his parents for his success as a student and an athlete because of their high level of support throughout his life. Due to the loss of his parents, Ross says he relied on his brother, Sean, for his guidance as he grew up, and even to this day. He sees Sean as a major reason for his accomplishments in the classroom and on the court.
Thanks to their respectful upbringing and personalities, Ross and Trae get along very well with everyone on their team, no matter what position or skill level they are at, which promotes a more successful environment on the basketball court.
Trae sees Michael Jordan as his favorite professional athlete because of "the demeanor and attitude he displayed while he played." Ross admires Allen Iverson due to the fact that he was at a disadvantage when it came to size comparisons; however, he overcame it and found a way to play at an impressive level of basketball, just as Ross learned to do
The toughest athletic time for Trae was when he had double knee surgery just before the beginning of his first year of college. He had to "work hard for over a year to get back to the level he used to be as a player."
He pointed out that Ross, other teammates, and his coach helped push him to endure and overcome the struggle by keeping his confidence up. Ross sees a specific time during his senior year of high school as his biggest athletic struggle: when he broke his hand mid-season.
He was informed that he would likely be out for the rest of his final high school basketball season. However, he was not willing to let his career end there: with determination, he was able to "come back from the injury in less than a month and finish out the rest of the games."
When Ross plays basketball, he says, "not only is it an escape from other stresses in life, it's a way for me to honor my mother's memory by playing my heart out and making her proud." Like Ross, Trae uses basketball as an outlet to help him cope with other struggles in life, and he is grateful to use the skills his father taught him in basketball.
Ross and Trae have almost identical goals as far as their future is concerned: they both plan to finish their basketball careers at Rockford, graduate with their degrees, become teachers, and also coach basketball.
When their time comes, they have specific desires in which they wish to be remembered: Trae hopes to be seen as "someone who touched a lot of people's lives throughout his journey," while Ross wants to be known as "a hard-worker that continues to grind everyday through all adversity."
Something they both made a very clear point about is that "being able to play together is beyond amazing and such a blessing and their experience would not be the same if they didn't have the chance to continue school and basketball together."
Ross averaged 9.3 points per game along with his teammate/friend Trae, who averaged 11.4 points a game, for a team that finished 7-18 overall on the season.
Despite the exhausting time and effort it may take to be successful, Ross and Trae have found a way to effectively live their lives as student-athletes, and also become great men from it. One day, they hope to influence other student-athletes as people have done for them throughout their lifetime.
View Comments (2)