Snowboarding: On top of the world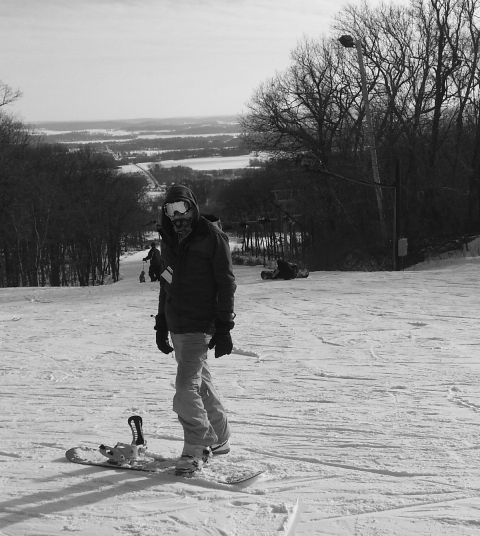 Last winter, I fell in love. I have always been an adrenaline junkie, but I had no idea of the high I could reach flying through the white powder of a fresh snowfall.
After my first time snowboarding, I was hooked for life. My first trip began at Chestnut Mountain Resort near Galena. Anyone who rides knows what that first day is like, but there are no words to describe it. It was bitter cold and the slopes were shear ice. I fell countless times, but I had a smile plastered on my face every time I got up. My body was screaming for me to give up, but my head was buzzing with ecstasy.
After that trip, all I could think about was getting back on the slopes again. I had another free weekend a couple weeks later, and I decided to head up to Cascade Mountain in Portage, Wis., for a couple days.
This time was totally different. Something clicked inside me and I had it figured out. I could finally carve the slope like it was perfectly natural.
The feeling is completely indescribable to someone who has not lived it themselves. All I can say is that it truly feels like flying on top of the clouds. It created a feeling of freedom like nothing I have ever felt before. The power of speed and adrenaline outweighs the fear of injury, and you begin to feel invincible. Body, mind, and soul reach some kind of beautiful equilibrium where all you can think of is the blissful simplicity of the ride and your surroundings.
The board becomes an extension of your legs, and you feel with it like you would with your feet. Every little bump and texture of the snow vibrates right through the board and up your spine. You carve back and forth like some enchantingly smooth dance. You're in control, but riding right on the edge of losing it.
After another three trips to Wisconsin, I had the opportunity to visit Colorado over spring break.
Boarding in the Rockies was the most incredible experience I've ever had. I was standing on the peaks above Telluride, more than 13,000 feet above sea level, at the top of a backcountry zone they call the Revelation Bowl. I could just barely make out the horizon with the seemingly endless miles in between. It didn't even feel like I was on earth anymore; rather somewhere at the edge of the atmosphere looking down like a satellite.
It was the most euphoric feeling I could ever imagine; I would gladly live in that moment forever. There was six inches of fresh powder to glide over like a fluffy pillow. A trip from top to bottom was nearly ten miles of winding and dropping trails, leading to countless breathtaking views of the San Juan and the towns below.
There is something very liberating about feeling your surroundings like that, and it can change your outlook on life. You feel so small, yet part of something huge.
Once again, I was humbled by how incredible this sport really is. If you have any interest, check out "The Art of Flight," a film and television series by pro snowboarder Travis Rice. It will give you a feel of what it is like to take on a mountain, before you are ready to do it yourself.
Never be afraid to try something new and crazy. I don't want to die regretting the chances I never took. You might just wind up falling.