Eagles battle in rough February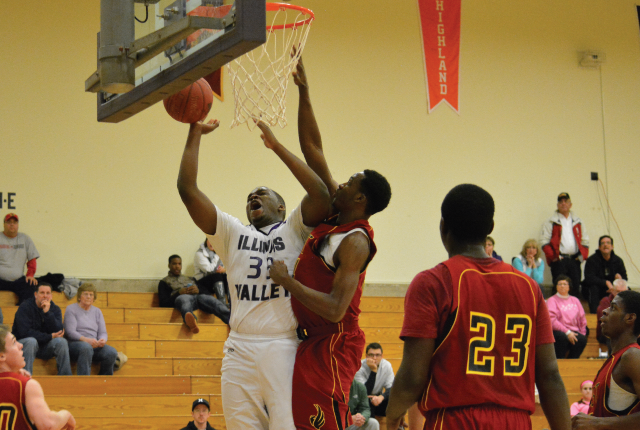 The month of February has not been lovely for the men's basketball team.
After breezing through December and surviving a January of transition with new players coming in from the baseball squad, the Eagles have lost four of their first five games this month.
IV hosted Sauk Valley on Feb. 3 and lost 69-81. Torrance Johnson's 26 points and 16 rebounds were not enough.
He finished with a double-double in two of the next four games.
Three days later, IV defeated Black Hawk-East at home, 67- 60, avenging their 72-64 away loss to Black Hawk East in January.
The Eagles flew to Chicago to play Olive-Harvey College on Feb. 10.
Ross Arteaga displayed his sophomore leadership with 27 points in the 77-86 loss. New baller John Heister knocked down 4 of his 5 shots from beyond the arc and totaled 22 points.
Back to back games against Highland and Carl Sandburg went terribly for the Eagles as they were dispatched 61-100 and 66-100, respectively.
One bright spot from these games was the emergence of Drake O' Donnell as a three point shooter.
The freshman graduate of Mendota High School added 12 points in the loss to Carl Sandburg.
Sophomores players from the men's and women's teams were recognized Feb. 18.
With a 10-14 record as of press time, IV has five more games left in the regular season, finishing with a home contest on Feb. 22 against Highland.
Then, Region IV tournament play will begin.