Eagles look for fresh start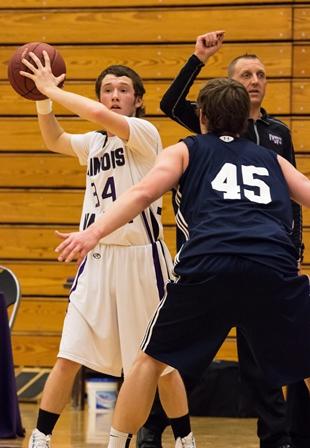 Eagles sophomore Ross Arteaga's Jan. 20 tweet said it all: "Started the season with 19 guys. We are down to 6. Unbelievable."
The IVCC men's basketball team suffered a greater loss Jan. 14 than the one on the scoreboard to Black Hawk East: sophomore guard Corey McCrary, who was leading the team in scoring with 15 points per game, fractured his arm.
Then, just a few days later, two more members of the team were dismissed due to mandatory drug testing. This came after four players were dismissed following drug testing in December.
However, head coach Tommy Canale said he has made very few adjustments to keep his team focused on the task at hand.
"The team is focused every day at practice and ready for games," Canale said. "We may be more focused now than we have been all season."
Canale also noted that the team is upbeat and looking forward to all upcoming challenges.
To build up the roster, the team has added several baseball players. Nick Harsted, Jimmy Parks, Drake O'Donnell, John Hiester and Logan Bima will suit up for the Eagles as the season continues.
Since the Dec. 5 IV Leader edition, the team has gone 6-3 and boasts an overall record of 9-10.
On Dec. 5, the team hosted Purdue-Calumet JV and came out on top with a score of 84-64. Torrance Johnson led all scorers with 24 points off the bench. Ross Arteaga was right behind Johnson with 20 points. Damin Smith pulled down 14 rebounds in the win.
Two days later, the team played host to Joliet Junior College and squeezed out a victory 66-65. Johnson had a double-double with 15 points and 11 rebounds. Arteaga had 14 points and dished out four assists. Casey Huebbe also had 14 points.
On Dec. 19, the Eagles hosted Rockford College JV and won big with a score of 86-51. Corey McCrary had a huge game as he had a double-double with 21 points and 11 rebounds. McCrary also had five assists in the win. Johnson also had a doubledouble with 13 points and 11 rebounds.
On Jan. 11, the team traveled to Chicago and played Prairie State College at the United Center and came out with the win 72-58. Lamont Adair had a monster game on the boards as he pulled down 18 rebounds and blocked five shots. Adair also had 20 points in the win. Arteaga had 15 points and had 8 assists in the win.
In a matchup on Jan. 21, the Eagles hosted St. Ambrose JV and won big with a score of 81-60. Johnson ended up with 26 points and 16 boards. Arteaga had 19 points and Harsted had eight points in the win.