Hot start, high expectations for Eagles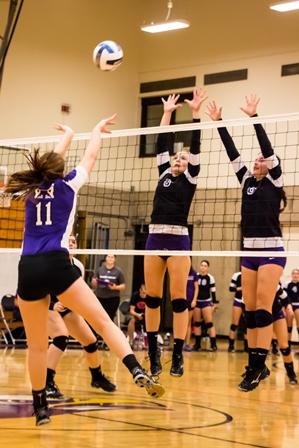 This year's volleyball team has high expectations for the season.
According to one of the team's captains Sophomore Nicole Musselmann (Metamora) and her teammate Sarah Lushina (Carson, Nev.) their expectations are to "win 75 percent of their games."
One other expectation is to beat Kishwaukee College, which Musselmann and Lushina say they haven't done in a while.
Both of the players did agree that the team does need to "communicate while playing." The girls added on and off the floor the team chemistry is very good. Finally, when asked about their coaches' expectations for the season Musselman and Lushina said their coach, "Expects them to give one hundred percent while playing and to communicate while playing."
Recently, the IVCC Lady Eagles Volleyball team hopped on the bus and traveled to the College of DuPage for a season opening tournament. In their first match they took on Oakton and won in three sets, 25-9; 25-17; 25-15. Leading the team in points was freshman Lindsay Gerding (Marquette) with 13 and Johnna Schultz (Hall) chimed in with 11. Schultz also had seven aces while sophomore Jessica Jessen (Marquette) led the team with 16 digs.
In their second contest, the Lady Eagles were defeated by Madison College in four sets, 25-27; 25-21; 16-25; 17-25 in a hard fought match. Sophomore Taylor Gunia (La Salle-Peru) led the team with eight points, while Lushina had eight kills.
On the second day of tournament play, the Lady Eagles left DuPage with a 2-0 record for the day and a 3-1 record overall. In their first game they defeated Lake County 25-5; 25-9; 25-12. Schultz had 15 assists while sophomore Lisa Lukkari (Ottawa) added 11. Sophomore Kayla MacDavitt (St.Bede) had six blocks as well.
In their finale, the Lady Eagles defeated the hosting team College of DuPage 25-19; 24-26; 25-12; 25-8 as they received a big win in four sets. Lukkari led the team with 24 assists while Jessen contributed with 28 digs. Freshman Josie Walker (Streator Woodland) led the team in points with 17.
In their home opener, the Lady Eagles took on Lincoln College and won in four sets, 25-15; 18-25; 25-17; 25-9. Leading scorer was Gerding with 18 while Schultz added 10. Schultz also had 21 assists in a giant performance to move their record to 4-1.
While the team captains are looking forward to the season, both are aware that the college is looking at budget cuts for athletics and they are concerned that a move to eliminate tution waivers for volleyball players would affect volleyball recruiting.
Both said it would affect the school's program because girls probably will go to school that offers waivers to play volleyball.