Super Fan: Alumnus supports basketball teams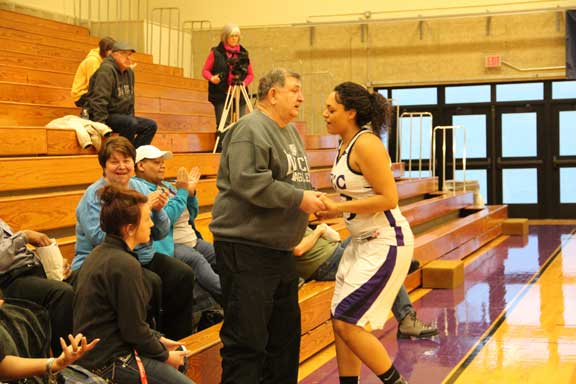 As the gymnasium fills and the crowd begins to fire up for an IVCC basketball game, John Ossola, as he does every game, sits in the front row, center court.
Each Eagle in the starting line-up pounds fists with the referees, shakes hands with the opposing coach, and finally heads over to John for the pre-game fist pump and to hear his words of encouragement.
Ossola is known as the Eagles' No. 1 super fan.
Ossola was a part of the L-P-O Junior College team which played in the 1959 national basketball tournament at Hutchinson, Kan. L-P-O Junior College was located in La Salle-Peru Township High School, before IVCC was built.
Ossola's team was inducted into the IVCC-LPO Hall of Fame in 2011. Today, he has proven to be a loyal member to the IVCC community.
Not only does he attend all the IVCC home games, but most of the away games too.
Even if the basketball teams are down by 20, Ossola is always encouraging the players to keep their heads up and do their best.
During the 2011-2012 season, Ossola accompanied the women's basketball team all the way to Washington, D.C., to watch them play in a tournament.
Ossola said, "It was a trip of a lifetime with a lot of good memories with the coaches and girls."
As a veteran, Ossola described the visit to Arlington National Cemetery as his favorite part of the trip saying, "It was an incredible feeling walking among all the others who had served and given their lives."
Ossola enjoys spending time with the basketball teams and feels that he has an individual appreciation for all the players. He chuckles saying, "Being around college kids makes me feel younger again and it's a fun atmosphere."
Even after the players have graduated from IV, if they continue further with basketball, he still makes an effort to see them play. "I like to keep in contact with the kids," he said.
It would be safe to say that if one attends an IVCC basketball game, Ossola will be sitting front row, center court, encouraging each player.