Eagles enter final stretch of basketball season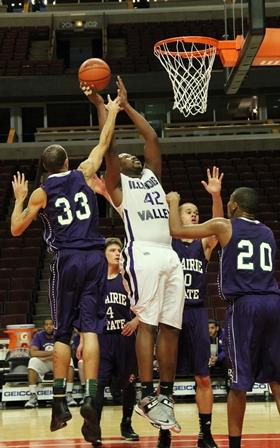 As of press time, the IVCC men's basketball team is 13-7, but has lost three out of their last four games after starting the second half of the season with a two-game win streak.
The streak started with a trip to the United Center in Chicago to play against Prairie State College on Jan. 7 and won the game 73-56. Alec Schwab led the team with 25 points, Michael Murray had 14, and JoVonn Griffin added 9 in the big victory. For Prairie State College, Joe Hughes had 14 points, Tommy Green had 13, and Colin Stankus had 9. The Eagles dominated the first half of the game, commanding a 35-18 lead going into halftime.
"The strangest thing about walking onto that court is that it's the same size as all the other ones we play on," Murray said. "The experience of playing on that court was breathtaking."
IVCC returned to Oglesby and beat Kishwaukee College 85-76 on Jan. 10. Four of the Eagles' starters had over 10 points, as Schwab scored 21, Corey McCrary and Perry Adams each had 16, and Murray added 10. Nick Finney added 13 points off the bench in the win. IVCC drew a lot of fouls in the game and capitalized on free throws, hitting 22 of 31 after drawing 23 fouls in the game. For the Cougars, Raheem Lemons had 15 points, Marlon Maxey added 13 off the bench, and Marcel Neil had 11.
Things started to go downhill as IVCC travelled to South Suburban College to take on the Bulldogs on Jan. 12. The team fought hard but could not overcome a nine-point first half deficit. The Eagles went on to lose 81-71. Murray had 20 points, Schwab added 18, and Adams had 11 in the loss. For the Bulldogs, Michael Harris had 28 points, Bryce Walker had 21, and Anthony Strickland added 11.
The Eagles returned home to play Highland Community College on Jan. 15 and lost 87-81. Schwab had 29 points, Adams had 18, and McCrary added 17. For Highland, Deon Andrews put up 30 points, Brandon Ward had 20, and Patrick Onwenu had 15 off the bench. Murray ended up leaving the game after having chest issues.
The team then travelled to Sauk Valley Community College on Jan. 17, hoping to get back on the winning track. They failed however, as the Skyhawks beat the Eagles 88-78. Schwab had 27 points, Adams added 20, and McCrary chipped in 12 in the loss. IVCC couldn't stop Sauk's Jalen Riley, who put up 33 points in the win. Magd Owayed had 18 points and 12 rebounds, while Daven Ottley had 16 points and 10 rebounds.
IVCC beat Black Hawk East on the road to break the losing streak on Jan. 22 69-57. Schwab had 22 points, McCrary had 13, and Josh Fenoglia added 11 in the win. IVCC was strong defensively, forcing the Braves to turn the ball over 16 times.
The Eagles travelled to Galesburg to play against Carl Sandburg College on Jan. 24. Murray returned from his injury and put up 8 points, but Adams led the team with 16, and Schwab had 13. IVCC went on to lose the game 77-65.
Games remaining on the schedule include: Kishwaukee College (road) on Feb. 2, Highland Community College (road) on Feb. 5, Sauk Valley Community College (home) on Feb. 7, Carl Sandburg College (home) on Feb. 9, Black Hawk East (home) on Feb. 12, Black Hawk—Moline (home) on Feb. 21, and Olive Harvey College (home) on Feb. 23.