Lady Eagles ranked sixth in the nation according to NJCAA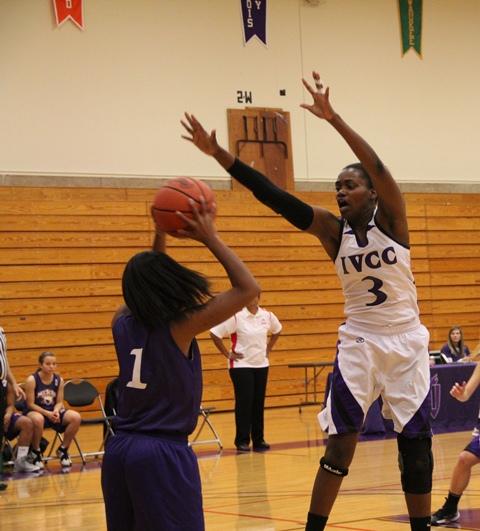 The IVCC women's basketball team surged up to sixth in the rankings as of press time for NJCAA Division II after posting a 6-2 record through the month of November.
IVCC saw a familiar face against Waubonsee at home on Nov. 13, as former Lady Eagle Emma Darby returned to play her former team. The center was a non-factor; Darby only had two points and five rebounds. Arnisha Thomas and Brytney Bennett came off the bench to put up 15 and 14 points respectively. Sydonia Daniels led the team with nine rebounds. Amber Carroll led Waubonsee with 13 points, Kara Vietinghoff had 12, and LaDesha Nelson had 10. IVCC went on to win the game 69-57.
On the road at Lincoln College, IVCC defeated a tough opponent 65-62 on Nov. 15. Thomas led the team with 18 points, Shareita Patton had 12, and Kara Kistenfeger had 8 points. Thomas was also a defensive force with 13 rebounds, Daniels and Bennett had four blocks each. Allyson Friday had 16 points for Lincoln College, Ariel Williams added 12, and Cassidy Jennings had 8.
The Lady Eagles returned home to face McHenry College on Nov. 20. Patton put up 20 points off the bench, Thomas had 15, and Brooke Johnson added 13. Kistenfeger had eight assists. IVCC's starters were aggressive defensively, Joselynn Castelli had three steals, and the rest of the starting lineup had two as IVCC stole the ball 17 times during the game. This was a big factor as IVCC went on to win the game 81-58.
Another home game against Parkland College on Nov. 27 ended in a loss for the Lady Eagles 81-75. Each starter for the Lady Eagles was in double figures for points: Thomas had 18, Patton had 14, Bennett had 11, Kistenfeger and Asya Williams had 10 points. Johnson added 9 points from off the bench. Thomas and Williams had 10 rebounds each. Lindsay Lenon of Parkland had 20 points, Uzuri Williams had 11, and Erin Kelley had 10. Parkland won the game at the free-throw line, converting 22 of 23 attempts while IVCC was 17-27.
The Lady Eagles go back on the road Dec. 11 against Wright College for the last game before Winter break.  Another road game after break was against Jan. 5 before the team returns home to face Kishwaukee College on Jan. 10. The Lady Eagles will travel to face the South Suburban Bulldogs on Jan. 12 and return home to face Highland on Jan. 15 followed by two away games in the Arrowhead Conference afterwards against Sauk Valley on Jan. 22 and Carl Sandburg on Jan. 24.