Volleyball ends season with regional loss vs. Kish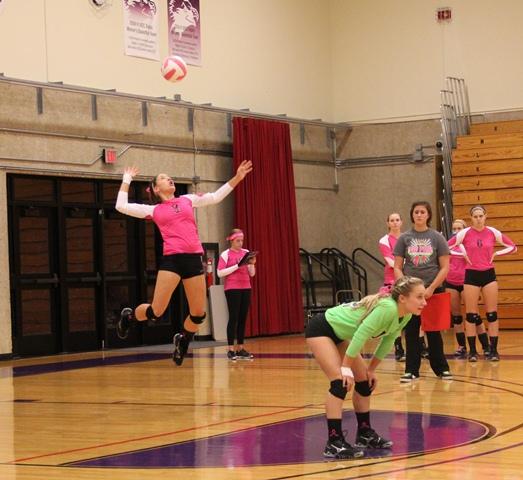 The IVCC Lady Eagles' volleyball team ended their season with a loss against Kishwaukee College at College of Lake County in Grayscale in four games, 25-23; 25-27; 18-25; 14-25.
The loss to Kishwaukee came in the semi-final round of the regionals after IVCC had won its opening round at home on Halloween night.
Despite the loss outside hitter Sarah Lushina, of Carson, Nev., still feels good.
"We had a really good season." Lushina stated.
After some questionable calls in the second game the momentum was lost according to Lushina.
"I thought we were going to take the whole thing." Lushina remarked. "If we would have won that second game it would have changed everything."
Lushina came to IVCC specifically for volleyball and plans on returning next season.
"Our team is like a family." Lushina said.
Overall, the team finished the season with a 22-14 record and a 7-5 Arrowhead Conference record after a 2011 season where they finished 5-34..
Hailee Brayton and Kayla MacDavitt, both of St. Bede, were named to the All-Arrowhead Conference volleyball team.
Departing sophomores include Katie Huss of Serena, Jessica Jacobson of Bureau Valley, Mary Grusk of La Salle-Peru, and Hailee Brayton of St. Bede.
Possible returning freshman include Kelsey Ott of Hall, Lisa Kukkari of Ottawa, Kayla MacDavitt of St. Bede, Johnna Schultz of Hall, Crystalynn Washkowiak of La Salle-Peru, Lushina, Jessica Jessen of Marquette, Taylor Gunia of La Salle-Peru, and Nicole Musselman of Metamora.
The Eagles had played the Cougars twice this season, losing on Sept. 5 at home 12-25; 21-25; 14-25 in the team's first conference game. They also lost on the road Oct. 2 19-25; 31-33; 18-25.
In the first game of the regional, IVCC beat Waubonsee on Oct. 31 at home in three games to advance to the regional quarterfinals.
In other volleyball news, on Oct. 18, the Lady Eagles partnered up with Phi-Theta-Kappa for the 2012 Dig Pink Rally against Clinton, Iowa, for breast cancer awareness.
The event raised over $2,000 for the Mary Davis Benefit Foundation and the SideOut Foundation.