Lady Eagles win home opener over UW-Rock County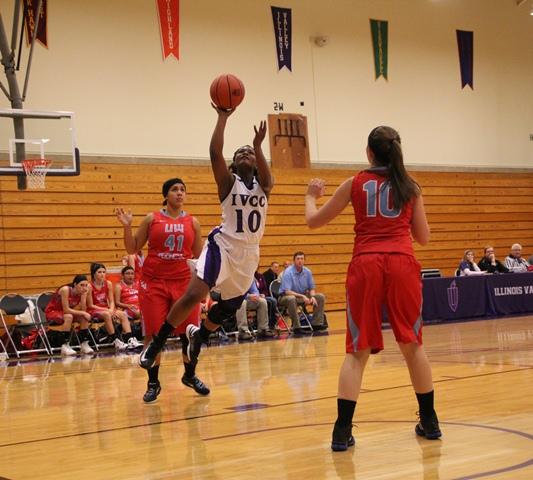 The IVCC women's basketball team opened up their season at home with a win over UW-Rock County 74-65.
The Lady Eagles went into halftime with a 15-point lead, as they dominated all phases of the game with an aggressive, up-tempo pace attack on both offense and defense.
The Rattlers weren't able to adjust accordingly to put points up as IVCC defenders were able to deflect passes and contest shots to stop UW from putting points up on the board.
IVCC also did a good job of adjusting their offensive style, taking layups and easy shots when they were given, and adjusting to deeper shots from outside when UW would defend the inside lanes.
Shareita Patton hit a three-pointer with under two minutes remaining in the half, giving IVCC a 16-point lead at the time.
Patton then stole the ball, drove the length of the court, and hit an easy layup to extend IVCC's lead.
Arnisha Thomas kept the momentum going after the halftime break, hitting a layup on IVCC's first possession, and Brytney Bennett hit another layup after the defense turned the Rattlers away from getting started offensively in the second half.
The negatives of the high speed and tempo started to take their hold however, as IVCC's aggressive style of play got them into trouble repeatedly.
The Lady Eagles appeared to be rushing plays and trying to make things happen when they just weren't there, allowing UW-Rock County to get some easy steals and baskets on consecutive IVCC turnovers with 16 minutes remaining in the half.
The Rattlers made the mistake however of trying to force three pointers to get back into the game quickly versus taking the layups and easier shots to cut the lead down little by little.
Thomas made a basket between three defenders to end a Rattlers run as IVCC went up 51-36 with 12 minutes remaining in the half. Courtney Draeving for UW-Rock County was deadly in three-point range, hitting three baskets from beyond the arc in the second half.
IVCC head coach Pat Cinotte took a timeout with nine minutes remaining, as IVCC's lead had been whittled away to seven points after a Draeving three-pointer, a three-point play by UW-Rock County's Kayce Cheesebro and an over-the-back foul on Patton.
After the timeout, IVCC went on a huge run, getting consecutive steals by Patton and Kara Kistenfeger.
The Eagles converted both possessions into points, adding to IVCC's lead and giving them a 70-53 advantage with just over four minutes remaining in the game.
UW-Rock County scored ten unanswered points, as Cheesebro and Demant converted bonus free throws after IVCC fouls, but the Rattlers couldn't finish their rally and lost the game.
The Lady Eagles will play their next home game against Waubonsee on Nov. 13.