Women's tennis starts fast, builds momentum for Regional tourney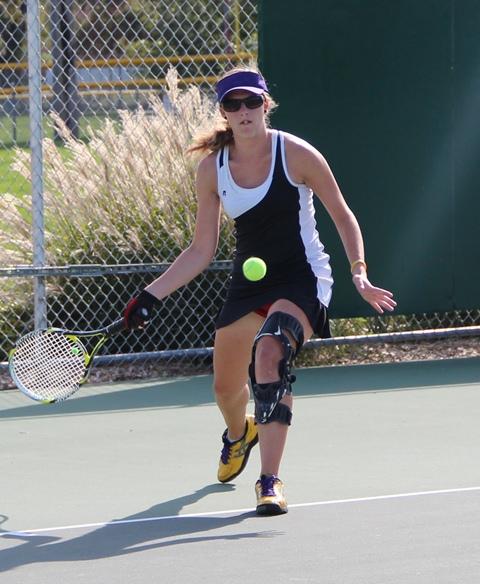 Josh Dillon, IV Leader Sports Edirtor
September 25, 2012
After not knowing if there would be a tennis program this year, the IVCC women's tennis team has started strong, winning four out of their first five meets to open the year.
Former Eagle and new head coach Julie Milota said, "I am so proud of how the men and women have kept their chins up. The ladies have graciously allowed me to coach them and because of this, these girls are on track to where my vision for them is individually.
"Our team's focus is not win, win, win, but we are winning. The practices are geared to accelerate our level of play, accelerate and build momentum going into Regionals."
Three days straight of meets faced the Lady Eagles on Sept. 6 as they defeated Aurora University 8-1. On Sept. 7 against Sauk Valley, the team won 7-2, and the third straight win was claimed on Sept. 8 versus Lake County.
Their only loss came to Elgin on Sept. 14 at Hegeler Park in La Salle. Overall, the team lost 6-3. Individual wins for the Lady Eagles came from Karly Rosencrans, who defeated Nikki Wachberg 6-1; 6-1, Nikki Kulis over Michelle Nee 7-5; 6-1. Delaney Ridley and April Kutz claimed a doubles win over Wachberg and Rose Monzon Mae.
Another home meet on Sept. 15 had a very different result as IVCC steamrolled McHenry College 8-1.
The Lady Eagles claimed every individual match, with Ridley defeating Nyssa Fetzner 6-1; 6-1, Kutz over Brianna Roeser 6-2; 6-7; 7-4, Rosencrans over Amber Fillmore 6-2; 6-0, Kulis over Ashley Donahue 6-1; 6-2, Nettleingham over Natalie Janelli 6-3; 6-1, and Emily Santman over Maggie Friday 6-0; 6-1.
In doubles play, Rosencrans and Kulis took IVCC's only loss 6-7. Ridley and Kutz defeated Fillmore and Donohue 6-2; 6-2 and Nettleingham and Santman beat Janelli and Friday 6-2; 7-5.
A close meet against Rock Valley Community College ended in a 5-4 win for the Lady Eagles on Sept. 20.
In terms of her coaching philosophy and style, Milota said, "My vision as a coach is to provide athletes the opportunity to further their education both hands on and in the classroom.
"I consider athletics a hardcore, unmerciful self-examination. And in this harshness, a miracle happens…wisdom.
"We would hope that [the Board] would take value in us and the athletic department in general."
Upcoming games include Moraine Valley at Palos Hills on Sept. 27, Waubonsee at Hegeler Park in La Salle on Sept. 28, and then the Regional Playoffs begin in Dixon on Oct. 5.