Men's basketball season ends with loss to South Suburban College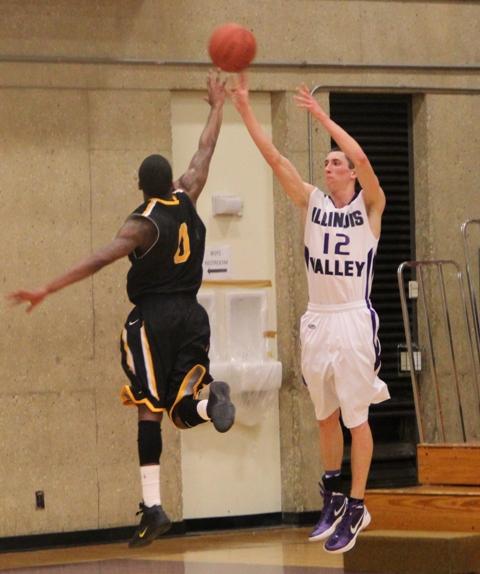 After getting demolished by Highland on the road 113 to 67 on Feb. 9, the IVCC men's basketball team turned their season around, finishing the season with a lot of momentum going into the Region 4 tournament.
On Feb. 12, the team got back on track by defeating Eureka JV 72-58. But, the Eagles got their first big test in the final part of the season against Sauk Valley Community College at home on Valentine's Day.
Earlier in the season on the road, Sauk trounced IVCC 86-68, but the second game against the Skyhawks would hold a different outcome. In a record-setting performance, Alec Schwab put up 49 points against the Skyhawks, including a three-pointer that put the game into its first overtime.
IVCC would eventually win the game 82-79 in two overtimes.
After the big win against Sauk, the Eagles lost a game against Black Hawk 63-60 on Feb. 16. A conference game against Kishwaukee College on Feb. 18 ended in a loss as well 62-58.
The team rebounded against Carl Sandburg, winning the final conference game and regular season finale, winning 83-63, getting a big win before hosting the Region 4 tournament on March 1.
IVCC earned the 3 seed in the tournament behind Triton and South Suburban College and drew Olive Harvey in the first round of the tournament.
The Eagles trounced Olive Harvey 78-47 and earned a rematch against South Suburban College on March 3.
South Suburban (No. 6) came into the game heavily favored, having already beaten IVCC 74-61 here in Oglesby on Jan. 7.
Two different playstyles of basketball were on display in the Regional Quarterfinal, the Eagles had more speed and shooters than the Bulldogs, who dominated the team on the boards in the first matchup with their size and strength.
Three different Eagles put up double digits in scoring, with Schwab leading the way with 25 points, Michael Murray and Nathan Ropp each put up 21 points in the game.
But, the season would end as the Bulldogs went on to win the game, 85-75.
Head Coach Tommy Canale's team ended the season overall with 17 wins and 15 losses.