Eagles fall after fast start against No. 2 ranked Bulldogs.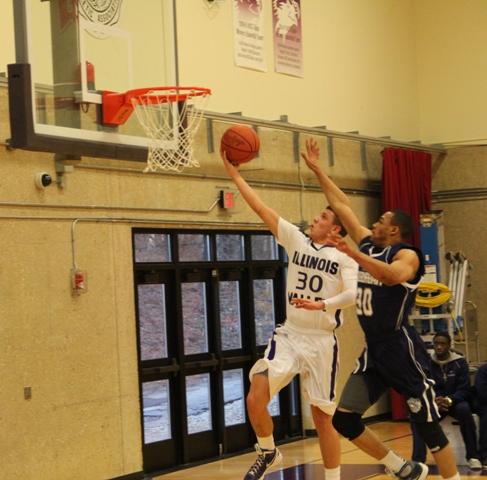 The Eagles went into their hotly anticipated game against the South Suburban Bulldogs with everything to prove and for 33 minutes, they did just that.
The Bulldogs, ranked second in the nation, looked like sleeping dogs as the Eagles started the game on fire going up 22-5 at one point in the first quarter behind fantastic performances from Alec Schwab, Nathan Robb, Josh Fenoglia, and JoVonn Griffin. Each of those players hit double digit points, but Johnathan Smith led the team with 16 points on the night.
The Eagles had the three point game working, Schwab hit half of the team's six three pointers in the first quarter by taking advantage of the open looks that coach Tommy Canale pointed out.
"We're a good passing team. If teams give us an open shot, we'll find it and take that all game long. We showed them some different things from what we've done this season and started off at such a high level and when you do that, it's difficult to maintain that level for 40 minutes."
The Bulldogs proved their namesake in this game, staying tough and holding off the relentless assault at the beginning of the game and not panicking as their situation was getting worse and worse. The Bulldogs shortened the Eagles lead to three by halftime, and after a couple mistakes in the second half, started to take control of the game. They went on to win 74-61
The Eagles forced two turnovers into layups from Ropp and Griffin, but from that point on, the Bulldogs' star players just proved to be too difficult to stop. Sultan Muhammad had 24 points and Marcus Lewis added 20 as the Bulldogs charged through and took the lead. The bright spot for the Eagles defense is that point guard Isiah Hale was held to only nine points on the game.
Canale believes that this game will be a learning experience and showed his team and others that they can be a force to be reckoned with.
"[Fenoglia, Schwab, Griffin, Ropp, Smith, and Michael Murray] are the core of this team and any one of those six can hurt you. We'll learn from our mistakes and be mentally stronger going into the conference opener. This was an eye-opener for sure."
The Eagles next game is Tuesday Jan. 10th at 7:30 pm against Black Hawk College at IVCC. Their overall record this season stands at 7-8.