Trade of Zambrano the end of an era in Chicago.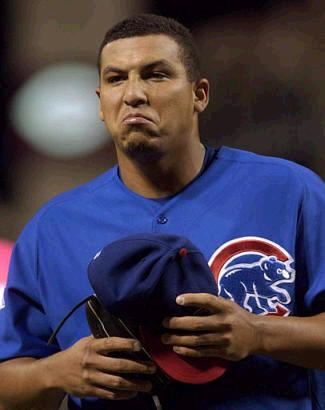 The first big casualty of the Theo Epstein era occurred in Chicago, as Epstein dealt highly volatile right-hander Carlos Zambrano to the Marlins in exchange for right-hander Chris Volstad.
Zambrano, who's been with the team for 11 seasons, flourished in his younger years behind Mark Prior and Kerry Wood, both highly touted talented pitchers who shouldered the hopes and dreams of Cub fans to bring a World Series to the North side. Zambrano never lacked talent, but once the pressure was on him to be the ace of the staff, he floundered a little bit.
Not one to hide his emotions, the smallest frustrations could send Zambrano into a complete meltdown on the mound. A borderline call that went against his favor in the first inning could cause him to throw a meatball that would end up six rows into the stands later in the game. He would also start fights with teammates, just ask former Cubs players Derrek Lee or Michael Barrett, the latter was moved shortly after the fisticuffs happened in the dugout.
The first time Zambrano took the mound to be the Cubs opening day starter in 2005, he was ejected in the fifth inning for arguing balls and strikes with the home plate umpire. In the final game of his Cubs career versus the Braves in Atlanta, he was tossed for throwing inside on two consecutive pitches against Chipper Jones. After that game, he told clubhouse personnel that he was retiring from baseball, but later recanted the statement. The Cubs acted quickly, placing Zambrano on the disqualified list and ending his season and eventually his Cubs career.
A career which did have one magnificent high note in it. On September 14, 2008, Zambrano threw a no-hitter in the most unusual of circumstances against the Houston Astros. The game was originally scheduled to be played in Houston, but it was moved due to Hurricane Ike. It's still the only time in baseball history that a no-hitter's been thrown at a "neutral" site. The fact that Houston's home game was played so close to Chicago is irrelevant to the historians.
It's a good trade for both teams. The Cubs get rid of a dramatic player who doesn't fit into their system, although they had to pay 15 million dollars to do so, and the Marlins pick up a player who's just below their manager on the craziness chart. As long as Ozzie Guillen can be nuttier than Zambrano, which won't be too hard if you've seen his managerial antics, it might be a match made in heaven. The Marlins are opening a new stadium this year, and if anything, adding Zambrano and Guillen will at least be entertaining.