My American Experience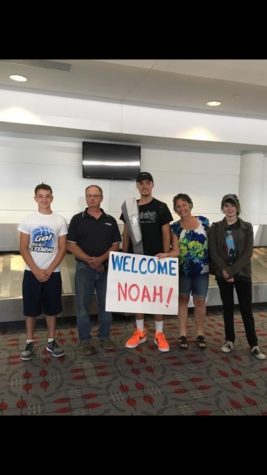 My name is Noah, I am from Germany and have been a student at IVCC for the past two years. I came to the Illinois Valley area for the first time back in 2018.
I was an exchange student at Bureau Valley High School and had previously only been to the United States a handful of times on vacation with my family.
When I found out that I was going to spend my exchange year in the rural countryside of Illinois I was definitely surprised, but not in a negative way, as my goal as an exchange student was to try something new and gain some experience of what life is like in a different culture.
I spent my exchange year with my host family in Walnut, a town of 1500 people, compared to my hometown Wiesbaden, Germany with roughly 300.000 people.
The first couple of weeks were somewhat unusual, trying to get acclimated with everything that was new to me, small town life, the american people and their style of living, as well as the school community.
Soon after those first couple of weeks, when school had started, everything fell into place for me rather quickly.
I met awesome people, made tons of friends, and was engaged in sports and other aspects of student and community life.
Everything was quite different from my previous school experience when it came to high school over here, the teachers were much friendlier, caring and wanting their students to succeed, compared to my strict teachers at home, who somewhat lacked empathy and the understanding of what students are going through.
Additionally, I was introduced to the importance of school spirit and how proud people were of what school they attended and what it stood for.
I especially remember our basketball season, which ended in a trip to the elite eight and was celebrated by the entire community, with everyone attending our games and coming out to support the team. I had never experienced something like that before and was amazed by the amount of support and camaraderie from the community.
Besides that, new aspect for me were attending prom, and graduation with all my new friends. Both were very enjoyable and fun to be a part of and something that is seemingly unheard of in german high schools.
Overall, I learned how important it was to be open and try new things even if those things may force you to step out of your comfort zone, and my experience gave me a different perspective on things.
I made many friends during my year in high school which contributed to my plan of returning to the area after finishing up school in germany to further advance my education.
Unfortunately, the COVID-19 pandemic put a hold on that plan in 2020, and I was forced to wait until the fall of 2021 to start at IVCC. Over the past 2 years, IVCC has helped me not only further my education and develop me as a person, but my time here also taught me how important it is to be organized and what it takes to be an effective student and a better person as a whole.
IVCC's faculty and resources have helped me enjoy the last two years to the fullest, and as I am planning to attend Illinois State University this fall to earn my bachelors in communications and journalism.
The Illinois Valley area has become my home away from home over the past four years, and I will always cherish and remember the memories and bonds I made with the incredible people here and plan to be back in the area at some point in my future, whenever life decides to lead me back here.