Secretary of Education pick may not be as bad as she seems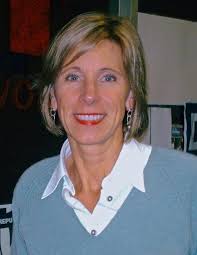 Facebook has exploded this week with controversy over the confirmation hearing of President Donald Trump's Secretary of Education pick: Betsy DeVos.
DeVos was a business administration and political science major at Calvin College in Michigan. DeVos has spent most of her career working as a chairwoman and fundraising for Republican politicians both in Michigan and on the national level.
Opposition arises largely from teachers' unions, with activists citing lack of experience as their primary concern. DeVos has almost zero public school experience.
Other concerns center around her focus on charter schools and so-called "voucher" programs. Education advocates are worried that such a shift would harm public education and drive already struggling programs into the ground. The primary source of this fear comes from DeVos stopping short of promising to maintain current funding levels to public schools when asked about it at her recent hearing.
Lack of experience could be the concern about Trump's entire cabinet. Trump himself has no experience in public office and many of his picks are at the least unconventional, if not controversial.
However, DeVos is actively involved in education-related issues, serving on the committee of Alliance for School Choice and making significant donations to scholarships, making it possible for low income families to send their children to private schools.
Her husband served on the Michigan Board of Education in the 1990s and together they now run the DeVos Institute of Arts Management at University of Maryland; their connection to public education, while not direct, does exist. She also publicly supports the arts and arts education; Trump's choice indicates that he is not as antagonistic towards the liberal arts as many feel he is.
Regardless, while the choice may be unusual due to her lack of experience in public education, anyone who does some research on DeVos can tell that she cares deeply about education and providing quality learning experiences for underserved communities.
There are also many critics of her inclination toward charter schools. Charter schools are public schools, funded by the government in the same way as your average neighborhood school, but given administrative autonomy. Because of teacher freedom to innovate and the schools' apparent separate identities, many people fail to understand that they are open to all students and are tuition-paid from the same budget as public schools.
According to Perspective Charter Schools of Chicago, charter schools in Illinois actually receive 25 percent less funding than typical public schools. Any fears that these schools are not held accountable for meeting standards are not based in reality, as the charters they sign to become an entity specify standards and set up processes for ensuring they are met.
Interestingly, there has been a shift in opinion regarding charter schools recently among Democrat politicians, despite increased popularity among families. Before the Illinois Charter School Law was signed in 1996, the bill passed with bipartisan support; Chicago mayors and democrats Richard Daley and Rahm Emanuel have both championed charter schools. Even Hillary Clinton came out in public support of charter schools, expressing her desire to encourage innovative education that works best for students.
Yet, for some reason, the Democratic platform, formerly in support of charter schools, was changed for the 2016 election to reflect the American Federation for Teachers' recent lobbying in opposition of charter schools. Thus, not only is there a disparity between public interest in charter schools and recent political antagonism towards them, there is a new and unexpectedly strong partisan shift.
Some question the effectiveness of charter schools, but in Chicago the top ten charter schools outperformed the top ten typical public schools on the ACT. These schools have contributed to closing racial economic divides as underserved children pursue futures in careers historically populated by white middle class citizens, such as law and medicine.
According to the National Alliance for Public Charter Schools, of the sixteen major studies done on the results of charter schools, fifteen of them demonstrated that the education received at charter schools as superior to traditional public education.
DeVos' position on improving access to charter schools is one that should be welcomed, and even just a year ago, it might have been. Federal education experts have been seeking more and more involvement in public education, as demonstrated by Common Core standards; it is hard not to see this sudden and baseless opposition as a strange power grab.
Finally, the voucher system is a unique and somewhat unproven method of improving access to alternative forms of education for students from families who need subsidized education. This system would make it possible for families who wish to homeschool or send their children to private school to receive financial assistance for use toward education expenses.
Supporters of public education criticize the fact that it could strip existing schools of needed funding, while supporters of homeschooling especially express concern over federal involvement in curriculum choices.
Very few examples of truly open-enrollment voucher programs are in operation. Many are limited to certain tax brackets or are targeted toward students with disabilities. The limited research done on these programs has indicated that so far, the results are less than stellar. Despite this, however, they are growing in popularity and bipartisan support.
DeVos' plans are not specific enough yet to determine the exact nature of the program she would work to establish, but her self-proclaimed goals in working with Congress and the President are to "work together to find common ground and ways that we can solve those issues and empower parents to make choices on behalf of their children that are right for them."
As a homeschool advocate here at IVCC, a publicly-funded college, I have experience in both areas. As recently as the 1990s, homeschoolers faced jail time over their right to educational choice. I am excited by the potential to have an advocate for home education in a cabinet position. I also understand that funding schools is an important and sensitive topic as Illinois schools face another year uncertain of their ability to serve students.
If DeVos can create a plan that would ultimately increase access to freedom of choice in education, reduce strain on educators in public schools, and create healthy learning environments regardless of physical structure, she will not be as terrible as the internet is telling you she is. The government's goal should be good, affordable education for the masses. That may or may not be in the form of traditional public schools for some people, and we should recognize that.
DeVos has weaknesses, admittedly. Her lack of familiarity with certain bills and laws seem to indicate a lack of understanding of the current state of public education. Hopefully she brushes up on it before taking over, but one thing we can be grateful for is that our constitutional republic prevents any one bureaucrat and her ignorance from destroying an entire educational system.
Her priority is freedom of choice and improved education, especially for underserved students, and one doesn't need to hold a teaching certificate to act on interest in others. If she holds true to her track record of putting arts and education first, I have hope that she will get more than a passing grade.