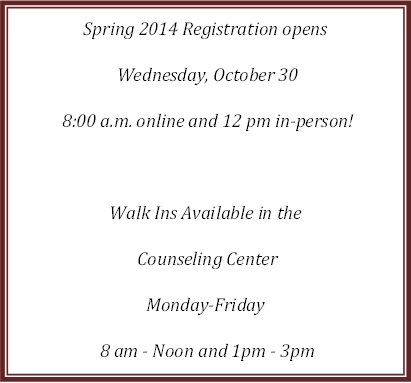 We are just rolling in to fall and October is the month we begin Spring 2014 Registration!
Although the Spring semester begins in January, it is not too early to have your schedule built so you are ready to go the first day.
For those of you scoping out WebAdvisor, you probably have noticed that the Spring 2014 schedule is already available online and you can begin setting up your preferred schedule.
If you need help selecting your classes or planning your schedule—you need to know that the Counseling Center is open, ready and available for both appointments and walk ins!
The sooner you get in to see us, the less likely you are to wait! Early mornings are also the least likely to be busy, so if you have a 9 a.m. class, come in at 8 to see if you can sneak in to start the day!
Not sure which classes are the right ones for your major and the university you plan on transferring to? Are you ready to move to the next semester and need some help in selecting your classes for your career degree?
Do you need help in finding a balance between school and your hectic life?  Counselors are standing by to help lighten your load and guide you on the path to academic and career success!
Don't delay! Stop into Counseling today!
Please note: The Counseling Center is scheduled to move the week of Nov. 12 into the new Bill and Dian Taylor Student Development Commons, which is located in the Peter Miller Community Technology Center.