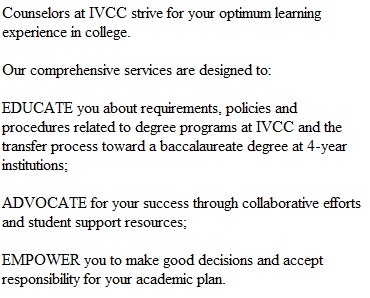 Have you seen "the Counselor"? Ever wonder who "the Counselor" is or what they do?
The goal of the Counselor Corner is to give you key information about what we do, but more importantly, how we can help YOU! So let's begin … who is "the Counselor" …?
The counselors include Missy Killian, Jim Moskalewicz, Renee Prine, . Jane Sack, Debbie Burch, Valery Calvetti, Wendy Harmon, Gary Carruthers, Jack Immel, Kate Young, Karen Stachowiak, and Meg Kowalczyk. This dedicated group of men and women are available during the day for appointments and for walk-ins and on Tuesday and Wednesday nights by appointment.
"The Counselors" work closely with the universities to make sure your classes transfer not only to your university, but into your college and major! This concern is so great that we have asked Jim Moskalewicz to serve as Transfer Coordinator to help keep all of the paperwork flowing smoothly for you.
"The Counselors" regularly visit the transfer schools to make sure they are up-to-date on the different majors. Universities and colleges were brought on campus in September to visit you! Check your IVCC student email for details.
"The Counselor" also helps (still reading …okay, here comes the pitch …) to ensure your success in academics as well as in life. To this end, they provide comprehensive services to enhance the educational learning environment and address the diverse needs of all students at IVCC.  Services that are provided include academic advisement and planning, career and personal counseling, as well as the transfer services mentioned above.
The team of experienced counselors is available year round to provide services and to assist you in attaining your goals. So if you happen to be passing by, stop in and say hi!