Safe Journeys presents 'famous survivor stories'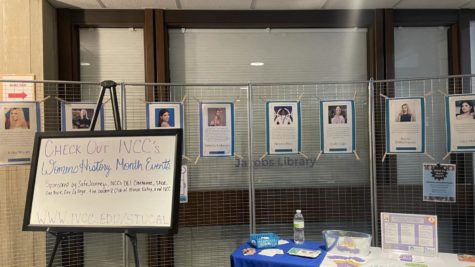 Heather Steele celebrated Women's History Month with a presentation on "Famous Survivor Stories" on March 28, at noon, in room CTC 124/125 at Illinois Valley Community College.
In the presentation, Steele shared the stories of famous survivors of domestic and sexual abuse and included short video clips and quotes. A group discussion followed.
The main celebrities referenced in the
presentation were Oprah Winfrey, Reese
Witherspoon, Lucy Hale, Rihanna, and Lady
Gaga.
Opening the presentation, Steele defined
abuse as something used to maintain or gain
control over an individual. Steele also mentioned that many people know the perpetrator of assault.
Steele has been working with Safe Journeys for 2 years, and with her knowledge and
degree in public health, she uses a scientific
approach to address the issue of abuse.
She stated, "I am focused on awareness
and education. I'm considered a preventionist, so everything I do is supposed to help
prevent future instances of violence, whether it is sexual violence, stalking, or domestic
violence."
Steele is also a community engagement
specialist, who through social media and
the Safe Journeys podcast, spreads the word
about the program, the help it can provide,
and how to prevent instances of abuse. All
links to Safe Journeys' information and
Steele's information will be provided below.
When asked why it was important to
share the stories of famous survivors, Steele
answered, "I wanted to do something for
Women's History Month, and unfortunately,
many survivors tend to identify as women.
I wanted to highlight that [abuse] happens
to famous people and this isn't an issue that
discriminates."
Highlighting specific quotes from survivors such as Lady Gaga saying, "Did I do this
to myself?," Steele wanted the audience to
acknowledge how most survivors have similar thoughts.
In all cases, Steele said, if a survivor confides in you, tell them that you believe them
and their experiences.
"I think it's empowering for survivors
who haven't shared their story or gotten
help, and it's educational for people who
don't understand these experiences," Steele
said.
Through her presentation, Steele hoped to
challenge certain misconceptions surrounding abuse. She also wanted people to gain
knowledge and tools for themselves and others.
While fighting against the normalization
of abuse, as society often diminishes the severity of what is happening to survivors,
Steele educates a whole generation on being
more proactive through her podcast Safer
Journeys.
To listen to Safer Journeys, click the link here. You can also go to Safe Journeys' Instagram, or Facebook.
Heather Steele can be reached at [email protected], by phone
(815) 257-1506, or at IVCC in CTC 220C, the
Adult ED Office.