Faculty Spotlight: Bob Reese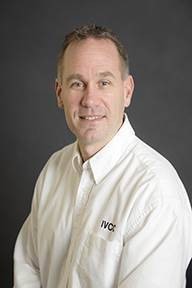 It has been 26 years of teaching at Illinois Valley Community College for Professor Robert Reese, Business Administration faculty member. Reese commented that his favorite part of teaching is "working with the students on a daily basis." He stresses, "Research is important, but enjoys the classroom and the daily interaction with young minds."
Reese earned his bachelor's degree from Northern Illinois University. His career choice to become a teacher was inspired by one of his Bradley University professors, which is where Reese received his master's degree and taught prior to coming to IVCC.
At IVCC, Reese teaches in the Natural Science and Business Division and he has taught classes for Business, Management, and Marketing. He also teaches upper-level classes for Lincoln College, which he truly enjoys.
Reese commented that, "he feels that the students are successful at the college level and this is what motivates him to continue teaching and keep up in his field." He feels that in order to be a successful teacher some important skills to have include good communication, to be knowledgleable and understanding, have charisma, and a passion to teach.
These valuable skills are what Reese looks for in other teachers, as well as making tough concepts easier to understand for the students. His advice to incoming teachers, "keep up with current issues in the field and learn how to take a complex issue and be able to explain it in understandable terms." Reese explains that the academic world has changed during his years of teaching, moving from lecture to more application. He focuses more on cases and application scenarios rather than lecturing.
This is the way Reese conducts his classroom and his students appreciate all that he has done to welcome students in his classroom and to continuously offer encouragement and guidance as they attend IVCC. According to the website, ratemyprofessor.com, Reese received all five stars in the rating distribution for being an awesome professor, with a past student posting, "GREAT teacher. I'm almost done with school for good, and looking back, he is still one of the best teachers I've ever had."
Overall, Reese emphasizes, "IVCC is a great place to work with flexible work requirements." It goes without saying that his fellow professors are one of the main reasons he enjoys teaching at IVCC.
Along with Reese's passion of teaching and working with students, he enjoys his family time as they like to travel together. He would love to indulge in eating ice cream every day, but adds, "my weight definitely shows when I do that."
His hobbies include golf, playing cards and coaching baseball. As a past baseball player coached by Reese, I can say he always had a positive attitude and was very encouraging which is brought into his classroom making him an exceptional educator.