IVCC graduate places in national photography competition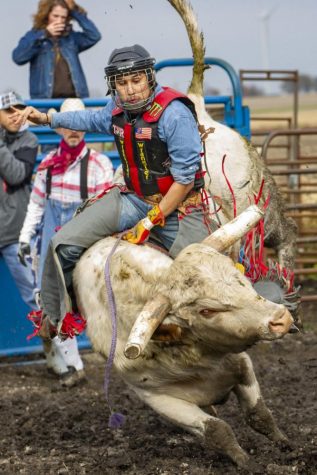 Kyle Russell, 30, an La Salle-Peru High School graduate, entered the Associated Collegiate Press/College Media Association photography competition and claimed two awards: fifth place in the sports photography category with his bull-riding photograph (pictured right) and second place in the photo slideshow section for his piece titled "Sign of the times: A small town COVID-19 story." (pictured above)
Kyle is an IVCC graduate and a precision machinist and welder in the area but discovered a love of photography through the IV Leader while he was attending IVCC, and it is something he has stuck with through the years.
I was able to contact Kyle and ask him some questions about his photography and the competition. Here are those questions and his responses.
How did you discover your love of photography?
I started with the IV Leader wanting to write music reviews and a local band was having their last show before parting ways. Lori Cinotte suggested that I take the [IV Leader] camera along with me and I agreed hesitantly. After that it just kind of clicked (pun fully intended)! After that it really just took off and I found myself renting the Leader's camera almost every weekend.
Do you identify your work with any particular artistic style?
I wouldn't say that I have a style really. As a photojournalist I am in a certain place at a certain time to tell a story, so I tend to document a situation from a different viewpoint as opposed to getting super artsy with my work. I do tend to love a very intense and in-your-face feel that I try to capture in my work. The closer to the subject and the more dangerous the subject matter, the more I seem to thrive. I love the chaos of being right in the moment.
What prompted you to enter this photography competition?
I really wanted to do well in this photo competition more than others because the IV Leader has become a second home to me. Out staff has worked through a lot of hard times even prior to COVID-19 so I want to see our paper's name at the very top of that list. When the biggest university names and papers are being recognized, I feel the need to prove that community colleges deserve to be shortlisted as well.
How did it feel to place in a national competition?
It feels amazing to place. I've worked really hard to move up from a fifth place finish two years age and I really pushed myself over four months on this photo story that placed second. I've taken grand champion at the Sandwich fair up against 2,000 other images, but this one still takes the cake for me!
Is photography something you're going to continue pursuing?
I've started working with professional athletes in motocross and some major musicians so far, however, as much of a dream it would be to shoot for Red Bulletin, RacerX, Sports Illustrated, or Nat Geo, my current job provides me with a much more secure income which allows me to pick and choose my own assignments (another reason that I love working for the Leader).
Do you have any advice for people who might be thinking of getting into photography?
Practice, practice, practice, and when you think you have figured out photography you practice even more. A fancy camera and fancy lenses never make the photo, it's the eye and the mind of the person behind it that makes the image. Never assume you know everything, other photographers are typically very kind and will help you along the way. One of the last and more important bits of advice I can give for photography and life is to be open to other people with opposing political views and religious views. When you listen to them and hear those stories, you learn to connect your photo work with them on a much deeper level. Kindness is key!
So take it from Kyle, if you're interested in something, go for it! You never know where it might take you.