Valiant Women: IVCC to Celebrate Women's History Month with Brown Bag Lunch Events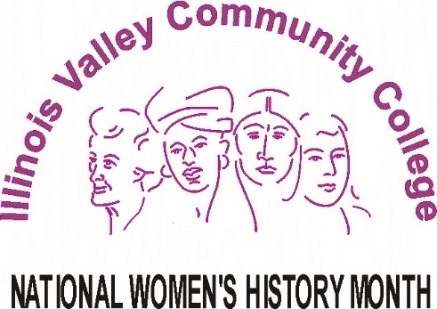 Women's History Month was introduced by the National Women's History Project nearly forty years ago with the goal of ensuring that information about the myriad ways that women have changed America—and the world—would be part of our children's education.
IVCC's Women's History Month Celebration is made possible through the combined dedication of the Diversity Team, SAGE, Sigma Kappa Delta, and dedicated IVCC faculty. A variety of Brown Bag Lunches, with details below, are scheduled and all are free and open to the public.
The first, entitled "A Woman Speaks: The Poetry of Valorous Women," is on Wednesday, March 4 from noon to 1p.m. in CTC-124. Our modern sensibilities often consider poetry to be "feminine" or "girly," but for much of history, the genre was dominated by male voices.
Throughout that same history, however, women have used their own voices—frequently in the form of powerful poetry, a genre once considered "incompatible" with women's lives—to work for the freedom and equality too often denied them.
In this session, we will share the work of women poets who inspire us to be valiant in using our own voices to continue the important intersectional work of attaining freedom and equality for all. Attendees are invited to join presenter Professor Nora Villarreal in bringing poems written by women (cis or LGBTQ+) to share with all the attendees.
This might be a published poem or an Internet-accessible video clip of one being read or performed, or—even bette — an original poem written by an attendee! The presenter will happily read poems that are brought to share if the attendees bringing them prefer not to do so.
The next is on Wednesday, March 18, also in CTC-124 from noon to 1p.m. The topic of this event is "'There is no fear in love:' The Global Problem of Child Marriage." According to UNICEF, more than 650 million women alive now were married before the age of 18.
Sadly, children are forced into marriages for a variety of reasons, from food insecurity to cultural practices. When girls are forced into marriages, they are less likely to complete school, more likely to give birth to more children, and more likely to die in childbirth.
In this session, Professor Amanda Cook Fesperman will discuss what these child marriages involve and what global intuitions are doing to combat the problem.
Students will be the primary focus of the next Brown Bag Lunch, "A Panoply of Papers: Feminist Figures," held from 11a.m. to noon on Friday, March 20 in CTC-124. In this session, please join dedicated IVCC students presenting researched papers honoring feminists whose persistence or accomplishments have improved women's lives in constructive and often non-violent ways.
Refreshments will be available courtesy of SAGE, Students Advocating Gender Equality. This session may run long, as the discussion engendered by the papers cannot be easily be predicted.
"Art and Poetry Appreciation: Honoring Women of Inspiration" is on Wednesday, March 25 from noon to 1p.m. in CTC-124. Please join the sponsors and members of the IVCC chapter of Sigma Kappa Delta as they read and discuss the works of some favorite inspirational female poets—and stick around for an award ceremony celebrating the artistic expression of the community in the recognition of winners of the SKD Art and Literature Contest.
The session entitled "Supreme Justice & the #MeToo Movement: Women Speaking Truth to (and Against) Power" will be held in two separate locations. Attend at the Ottawa Center in Room 104 on Thursday, March 26 from 1:30p.m. to 2p.m. or in CTC-124 at the main campus on Friday, March 27 from noon to 1p.m.
Listen as Professor Kimberly M. Radek-Hall discusses the repeated history of Anita Hill and Christine Blasey Ford, who both testified against Supreme Court Judge nominees; the outcome of the Harvey Weinstein trial; why women often do not report sexual assault and harassment; and legislation or court decisions that have negatively affected women.
The final session, entitled "Pressing the Gender and Power Buttons: The IRL Community of Videogames," is on Monday, March 30 from noon to 1p.m. in room CTC-124.
Join Professors Cook Fesperman and Radek-Hall to discuss what happens IRL (in real life) when women and girls begin to engage in the male-dominated world of online gameplay, where people's online personas may or may not match their real life genders and their opinions on gender are often expressed from the perceived safety of anonymity.