Faculty Showcase: Nancy McDonnel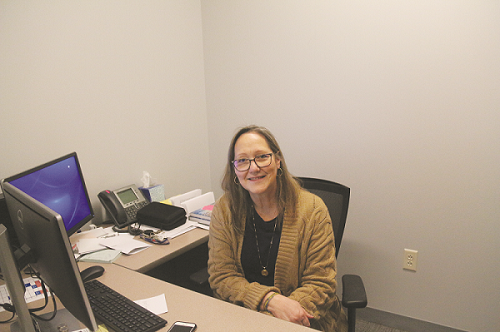 Where are you from originally?
Ottawa.
Where did you attend college and what degree do you hold?
I attended IVCC and received my Networking Certificate. I then went on to earn my MBA specializing in IT Management. I also hold several industry certifications such as the Security+ and CISSP (Certified Information Systems Security Professional).
What classes or positions are you currently assigned?
Cybersecurity Coordinator. I currently have Digital Forensics, Ethical Hacking, Managing Information Security, Computer Ethics, and Computer Science I for this semester.
Are you new to teaching?
I have taught as an adjunct for many years at IVCC, and also online for Purdue Global Online.
What are your impressions, not only of the students, but also the atmosphere at IVCC, and your fellow faculty and staff?
Love it! The students have been great as well as the faculty and staff. My favorite is getting into the discussions about security with students in class.
So far, what is your favorite aspect of IVCC?
Talking to students and how helpful and great Gina Elias and Shane Lange have been in helping me. They have been tremendous in support and help.
What is your favorite thing about the Illinois Valley area?
We farm in the Illinois Valley, I would not want to live anywhere else!
What should a student know about you?
I started out in IT as a second career later in life. Came into the field not knowing much about it, although it was considerably different when I started. Took classes, got certified, and specialized in security – it was at that point my career took off in IT.
I have worked in multiple industries within IT and IT Security. Started at the help desk and worked my way up through education, certifications and good work ethics into a Chief Information Officer role. If you have a career or class question, always feel free to talk to me.
MORE ABOUT THE CYBERSECURITY PROGRAM
How many classes are required for your program? What are they?
We have both the Cybersecurity Certificate and the Cybersecurity Associate in Applied Science.
Students need their gen eds, as well as classes from the Networking program, but specific to just the Cybersecurity programs we require Managing Information Secuirty, Cybersecurity Scripting, Digital Forensics, Security+, Ethical Hacking, Computer Ethics and an internship.
Why did IVCC decide to start this program?
Cybersecurity is in high demand in the workforce and cybercrime is not going to slow down.
There is currently a shortage of cybersecurity specialists with no an end in sight for the gap to close in the near future.
Why should a student consider this program?
Cybersecurity is a great field to enter. Being skilled and going into the workforce is a huge plus.
Information Security Analyst positions in the US are expected to grow 32 percent from 2018 to 2028. There are attacks on systems by hackers every 39 seconds on average.
The cybersecurity field has so many branches people going into this field have a lot of options for career choices within cybersecurity.
How can a student find out more information about the program?
We have information on the website, but they can always contact me directly and I would be happy to sit and discuss the program and the field in general with anyone interested.
I can be reached by email at [email protected]. My office is
over in the CTC building.