Leaving a large footprint
College names Cultural Centre after Weeg
"How do you honor someone who left a footprint as big as Dr. Mary Margaret Weeg?" asked Fran Brolley, director of IVCC Community Relations and Development. "You name the Cultural Centre after her."
Earlier this month, IVCC President Jerry Corcoran announced a $1.1 million donation–the largest in the college's 93-year history–from Dr. Mary Margaret Weeg and plans were made for the Aug. 25 renaming ceremony.
Weeg was a 1951 graduate, teacher, and humanities division chair at the college, who died in April 2015 at 84. Weeg retired in 1989 after 35 years of education.
The Board of Trustees officially voted at a short board meeting on Aug. 25 to rename the Cultural Centre, and then followed the meeting up with the official ceremony in front of the space now named for Weeg.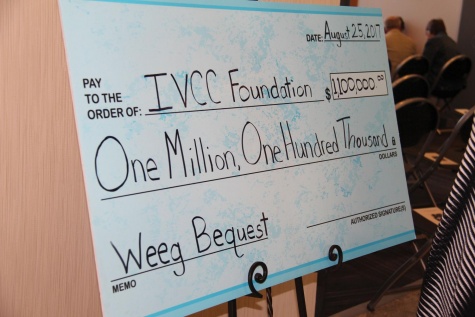 Weeg's donation will support an arts scholarship, the scholarship campaign fund, the adult education department, the student emergency fund, and IVCC Foundation-related needs.
According to the college's naming rights policy, her donation qualifies her to have her name placed on a building. The administration requested naming the 600-seat Cultural Centre auditorium the Dr. Mary Margaret Weeg Cultural Centre.
Speakers at the ceremony noted Weeg's love for the school.
Dr. Hans Andrews, retired IVCC Dean of Instruction, said, "She wanted to give $2 million but because I was her boss, I didn't pay her enough."
In Weeg's early years of education at the college she had given him a "plant that says this shall pass."
Andrews reflected, "Mary, I was a little nervous coming in here, but this too did pass."
Weeg's purpose in life, according to Jane Goetz, IVCC Board of Trustees chair, was "to inspire other people to teach" and Weeg was "dedicated to colleagues, students, teaching and school."
Retired instructor Ed Krolak, a colleague and friend, said "she was never at a loss for words."
Dr. Rose Marie Lynch, another colleague, friend, and estate executer, said Weeg was fond of saying her legacy is the people she hired and said "I'm proud to be one of them." However, Lynch noted that Weeg's "true legacy is her students."
According to Lynch, she "compared leading her division to herding cats and she was a wonderful cat herder."
Weeg was well respected. Even students who struggled in her class respected her.
Lynch heard someone walk up to Weeg saying, "Dr. Weeg, You were one of my favorite teachers. Do you remember giving me an F in English… twice? Can I buy you a drink?"
Weeg will be missed by many and will always have her legacy kept at the college.
"Rest easy, Mary," said Brolley. "Mission accomplished."