Local animal shelter serves many
Fundraiser for IVAR to be held in Student Life Center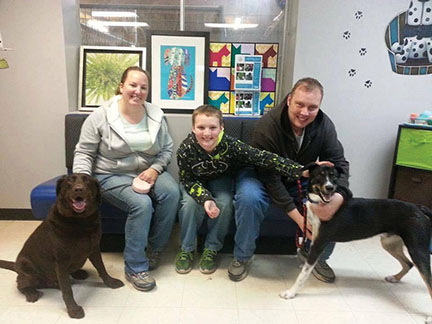 A fundraiser for Illinois Valley Animal Rescue will be held on Tuesday, April 11 in the Student Life Center.
The event will take place from 9 a.m. until 1 p.m. IVAR's supply wish list and volunteer application will be available to any interested students. Monetary donations will also be accepted.
A supply collection box will be located outside of the cafeteria from Tuesday, April 11 until Tuesday, April 17. If students are interested in donating supplies to the shelter, items can be dropped off in the box at any point throughout the week.
IVAR's wish list includes items like canned dog food, canned cat food, bleach, paper towels, toilet paper and bottled drinking water. A full list will be available on April 11.
In addition to such supplies, small stuffed toys can be donated to IVAR's "Tiny Toys for Tiny Cats" program.
"We have these orphaned kittens that come in. We pair them up with the toy and it becomes like a companion to them," Sue Jacobsen, IVAR's cofounder, explained. IVAR cannot accept any toys with feathers or long strings due to safety concerns.
IVAR was founded in 1999 by sisters Chris and Sue Jacobsen. According to their Facebook page, which now has almost 18,000 likes, IVAR's mission is "to rescue, provide care and comfort for abused, neglected and homeless animals in the Illinois Valley through our care center, foster homes and veterinarian sources." The shelter also aims "to unite the animals we care for with people who need the love and comfort the appropriate pet can bring them."
When IVAR first moved into its current address at Industrial Dr., LaSalle, cats and dogs were housed in one building. Thanks to donations and fundraisers, their only sources of funding, IVAR was able to add a second facility where dogs could be housed seperately.
"Things did not go well [with one building]. It was really nice to finally get the dog building," Sue Jacobsen said.
IVAR is home to over 150 animals, and because of this, the shelter is always looking for supplies and donations.
"We receive no funding from the government. We depend on our local community to help us out, and in return, we keep all of our business local and only accept local animals," Chris Jacobsen said.
"This is why [fundraisers] are so important. We are so grateful for the small donations and fundraisers," Sue Jacobsen said.
In addition to such donations, volunteers are always in demand at IVAR.
"We are always looking for volunteers. If we are ever able to afford another staff member, we're going to look to our volunteers. Volunteering here may lead to a part-time job in certain circumstances," Sue Jacobsen explained. "There's many different opportunities. We have volunteers as young as 6 years old that come and play with the kittens."
IVAR is home to around 30 dogs and 125 cats.
"It's always too many," Sue Jacobsen said. "They're here until they find their perfect home. In the meantime, they have a good home here."
The fundraiser is an independent project sponsored by the honors program. Any questions can be sent to Stephanie Bias at [email protected].