Campus honors clubs grow
Phi Theta Kappa, Sigma Kappa Delta welcome new students
March saw the formal inductions of 56 students into two of IVCC's honors societies.
The Phi Theta Kappa Rho Omega chapter held their induction on March 9 in CTC 124/125. The society inducted 29 new members.
PTK is the official international honor fraternity for two-year colleges. Founded in 1910, the society boasts 1.5 million members in 1200 chapters across the country, in Canada and in Germany. To be eligible, students need a 3.5 GPA and 12 hours of college credit.
The ceremony was organized by President Trevor Finnan, Vice President of Service Brittany Blomquist, Vice President of Communication Erin Picton, Vice President of Scholarship Aelsa Butler, Vice President of Fellowship Reese Berger, Vice President of Leadership Ben Bejster, Vice President of Membership Arinze Ochuba and Secretary Maddi Loiselle.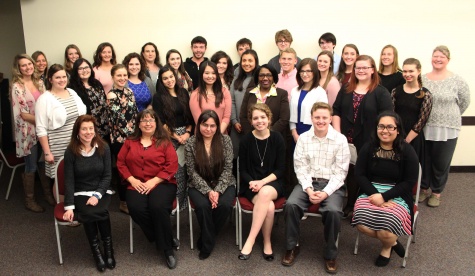 "Of the five inductions I've attended, it was one of the largest I've seen," Finnan said of the attendence. "There are some really smart kids being inducted tonight, and it makes me confident that once the officers pass the baton, this organization will continue to excel and acheive great things."
Finnan and Butler are also on the All-Illinois Academic Team. They visited Springfield, Ill. Tuesday, April 4 for the banquet and recognition ceremony. The two are nominated for the All-USA Academic Team that includes the top twenty community college students in the country.
Aseret Loveland, the Assistant Director of Admissions and Records, co-advises the group along with biology instructor Eric Schroeder.
PTK will hold officer elections for the 2017-2018 school year April 10 in the Biology Lab.
English Honors Society Sigma Kappa Delta also held inductions March 23 in C-316. The society formally inducted 27 new members.
Students need to have taken an English composition course with a "B" average, 12 hours of college credit and a minimum GPA of 3.3.
The society was founded in 1996, and English instructor Kimberly Radek-Hall began the Mu Alpha chapter at IVCC in 1997.
The group is advised by Radek-Hall and fellow English instructor Delores Robinson.
The Mu Alpha chapter is led by President Brittany Blomquist, Vice-President Alex Hall, Director of Public Relations Maddi Loiselle and Secretary Tiffany Deguzman.
The officers presented Radek-Hall a gift to celebrate her twenty years with the group and as a chartering faculty sponsor. They gave her an English ivy, the official plant of the society.
"It was exciting to see so many new members, pursuing a wide variety of academic and career goals, joining Mu Alpha," said Blomquist. "The participation of new members in current SKD activities has been fantastic."
SKD will hold officer elections for next school year April 10-14 on their Blackboard page.