Day of Destruction
Deadly tornado levels parts of Naplate, Ottawa
The IVCC community was hit with a series of strong storms Feb. 28, but its culmination in an F3 tornado that started just east of Ottawa ravaged homes and took two lives.
Alyssa Johnson's family of four lost their home to the tornado. Around 5 p.m. the storm began to pick up with baseball sized hail, lightning, and high winds.
During the storm Johnson and her 7-year-old daughter were at her grandparents, her mother was at work and her brother was at work in Joliet. Their dog who was home during the storm was scratched by debris, but is going to be fine.
"I would have been home, but my mom stopped me and made me stay at my grandma's, which was a blessing in itself," said Johnson.
She is thankful that no one in her family was physically harmed during the destruction and that everyone is going to be okay.
Her family, like others, lost a majority of their possessions. "We will be able to get our mattresses and clothes and that'll be about it," responded Johnson.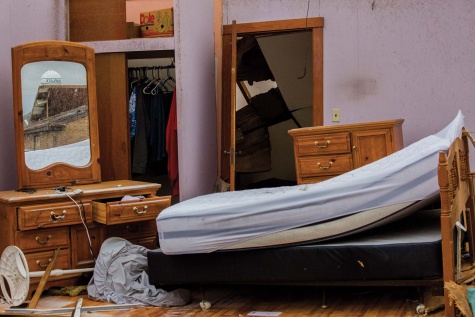 Kyle Russell
She has created a GoFundMe page at gofundme.com/blessings-after-the-storm, which so far has raised over $11,5 00 in support.
"We are all okay. We are hanging in there. The amount of support and love we are receiving is so helpful."
Johnson is not alone. Many in the IVCC student body are dealing with clean up and emotional healing as they dig through what is left of their homes.
The storm passed over IVCC, sending staff, faculty, and students to the basement for almost an hour. Very little damage was done at the campus, however.
There was a brief touchdown at St. Bede Academy in Spring Valley, captured on camera by area high schoolers, but it was when the tornado touched down in Naplate that the real destruction began.
Parts of the area had so many downed wires and trees that the media was restricted from entering certain areas.
Initially, the tornado took one life, but as of print time, a total of two have died from injuries caused by the tornado.
As the reports started coming in about the damage done in Naplate and Ottawa, IVCC cancelled evening classes at the main campus and all classes at the Ottawa Campus for the following day.
Area high schools, middle schools and elementary schools also cancelled classes, and the Ottawa Township High School gym was set aside as a place for displaced residents to seek shelter.
IVCC is doing what it can to help students affected by the storm. Members of the Red Cross Club and other campus organization have helped in passing out fliers.
Students who have lost rental textbooks in the damage can call the bookstore to verify their address and will be provided with a new textbook free of charge.
Situations in which students have bought a textbook will be evaluated on a case-by-case basis.
IVCC President Jerry Corcoran sent out an email expressing condolences.
"IVCC's faculty, staff, and board have you in our thoughts and prayers as you navigate through this unfortunate and trying event in your lives," he wrote.