Forst joins English faculty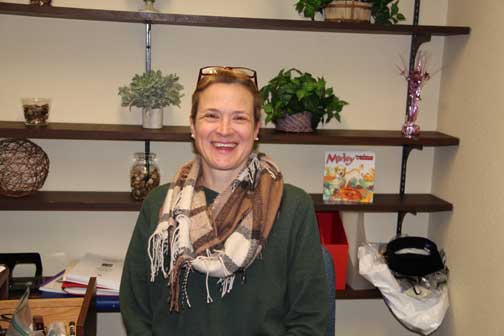 Illinois Valley Community College announced their new full time faculty member, Jean Forst, from Darien, IL, earlier this semester. Forst has been teaching for more than 20 years.
Prior to accepting the full time position, Forst worked in the writing center for 5 years. She has a Bachelor's degree in Finance and Marketing, which she received from Northern Illinois University. Forst has a M.A and Ph.D. in English from the University of Illinois
"Finance and Marketing is the practical route, but I knew that my heart was set somewhere else. It truly is cool when you can find a comfortable job in something you love," she said.
Forst is very excited to now be working a full time job in her career of choice.
In her free time she enjoys reading both light novels, such as mysteries, and weighty classics, like books by Dickens.
"There seems to not be enough time in the world to read all of the books that we want," explained Forst
Besides her passion for reading, she also enjoys combining exercise goals and her love of animals. Forst spends about twelve to fifteen hours a week walking and helping dogs at Illinois Valley Animal Rescue.
When asked what she enjoys most about teaching, Forst responded, "I very much enjoy adapting my lessons to reach students at different levels; I love the friendly, collegial, and collaborative environment at IVCC."
Forst not only loves her students, but she also enjoys the environment of being a teacher.