Edible Car Contest: A day of tasteful competition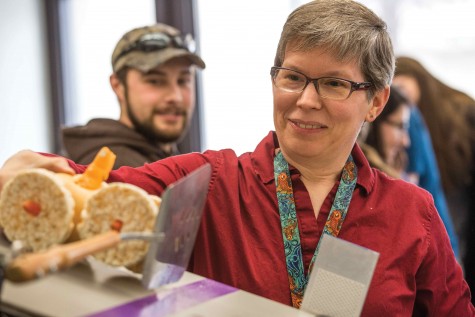 IVCC and local high school students had an opportunity to express their engineering and creativity skills in a unique way — by building miniature cars made entirely from food.
Feb. 25 was the 10th Annual Edible Car Contest, started in 2006 with the intent to put emphasis on National Engineers Week. While generally aimed at college and high school students, the contest has been put on for second graders and junior high students as well.
"I was looking for a way to express to students a fun and exciting way to see what it is like to confront challenges in engineering," said Dorene Verucchi, the program director of Computer Aided Design. Verucchi was one of the organizers of the competition. Other organizers include Jim Gibson, program coordinator of electronics, and Rose Marie Lynch, retired communications instructor.
Each team must have at least three students, with at least one female included. There is a national push by engineering groups and the National Science Foundation to encourage more women to join the fields of science, technology, engineering, and math.
Students were able to win prizes in multiple categories, such as design, speed, creativity, and nutritional value. The speed category is generally the most coveted and high tech award, judging a car on its time to roll down a three foot long board.
Taking home the much sought after prize for speed was the IVCC MIMIC (Making Industry Meaningful in College) group consisting of Kalem Miranda, Elizabeth Zarka, Cory Buck, and Joe Spangler.
Their car finished the track in .65 seconds, beating another team out for first place by only .01 seconds.
The timing mechanism on the board is specific. Built under the guidance of Gibson, students constructed the track using a pneumatic rotary actuator hooked up to a kitchen spatula used as a starting gate. Photo reflective eyes were set up at the start and end of the track to time the exact speed. The controls for the track were run by a programmable logic controller (PLC).
A group of three girls from IVCC, Sydney Hall, Olivia Hardy, and Mariah Smith, won first place in creativity. They claimed they drew their inspiration from the "Magic School Bus", and built their car from rice crispy treats, pretzels, and donuts.
"We would definitely do it again," the three girls said. Many students enjoyed the contest, and several claimed that their favorite part was getting to eat the cars after the contest was over.
Other categories included "Most Likely To Survive a Zombie Apocalypse" and "Best Engineered to Roll Down Ramp."
IVCC has been nominated for the national Bellweather Award three times for the edible car contest. The Bellweather Award seeks to recognize outstanding and innovative community college projects. IVCC's contest was one of 10 finalists in 2012.
Leave a Comment