Taste of India presented by IVCC Diversity Team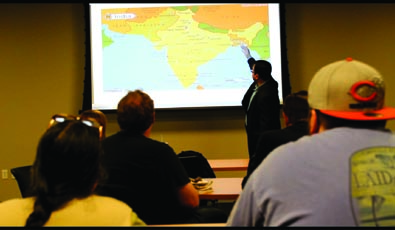 The IVCC Diversity Team presented the Cultures of India April 21 with IVCC's economics Professor Abhijeet Bhattacharya as the speaker.
Bhattacharya moved from India to the United States toward the end of 2008 for graduate school, and came to teach at IVCC in the fall of 2008.
The event included the Indian food chicken curry, malai paneer (which is similar to cottage
cheese), and a rice-like dessert made by Bhattacharya along with a couple of other dishes made by other faculty members for those in attendance to enjoy.
The presentation included topics relating to India's history, and Bhattacharya stated that the nation received independence from the United Kingdom in 1947.
He talked about how, just behind the United States, India is the world's second largest film producer, with around 700 movies coming out yearly.
Common sports played that the citizens play are cricket, chess, badmitten and field hockey.
Several students attended the presentation and said they enjoyed learning more about the country and tasting Indian food.