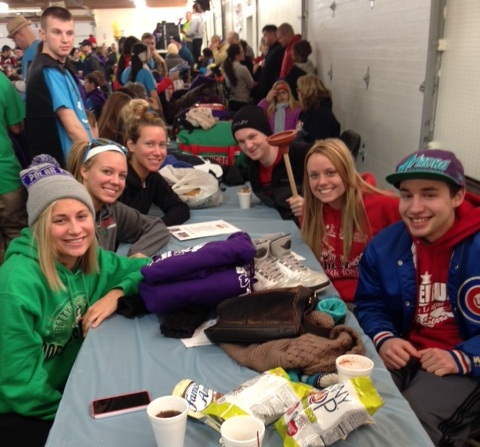 On March 2, many Chicagoans, and those in the surrounding areas, took to North Avenue Beach and leapt into Lake Michigan for the 14th Annual Polar Plunge.
While the main plunge occurred in Chicago, other groups joined together at lakes and other areas to raise funds in their own version of the plunge.
Included in this group were some IVCC students from the TEACH group, who took the plunge in order to raise money for the Special Olympics.
"It was freezing," said TEACH member Liz Rice. "The lake was frozen, so the fire department set up a pool area.
"Most people went in up to their knees, but all six of us dove into it. We went all the way under. It was cold."
These hot-blooded students were rewarded with a quick stay in a heated tent and dry clothes to change into, such as brand new polar plunge hoodies to show off when they returned.
They also raised $1,225 as a team for the Special Olympics. TEACH advisors are Jill Urban-Bollis and Tina Hardy.
Rice and Brianna Bertolino will also be teaming up with La Salle-Peru Township High School students in a volleyball event at Special Olympics this spring.
When asked if she would do the Polar Plunge again, Rice responded, "Yeah, we've already talked about it. We're doing it next year."