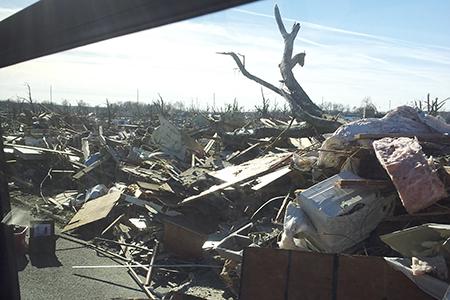 When an F4 tornado hit the Washington and Wilmington areas on Sunday, Nov. 17, local towns like Dana and Streator also were affected. Brandon Urbance of Streator said a portion of the Welcome to Washington sign and photo books ended up in his yard after debris traveled more than 50 miles. Jenna Smith of Streator said she and her mother ran to the basement once the hail and strong winds started and the sirens sounded. When they emerged, they found damage to their house and cars from the hail. "Words to describe the storm in Streator are nothing comparable to what happened in Washington," Smith said. A few days after the storm, Smith and a few of her friends traveled to Washington to deliver a truckload of supplies to a local church. "I was not fully prepared on what I was about to witness that day," Smith said. "Many of the volunteers that had
helped out earlier in the week were giving advice to everyone on how emotional it would be. You look around at the homes, and many tears and prayers were spreading throughout. No one can see or realize all of the mixed emotions until you see it for yourself." Smith said she could
clearly see the tornado's path of destruction and the trail of debris that was left. She described the experience as "heartbreaking" and said most people don't even know where to begin cleaning up.
Besides the work in Washington, IVCC students who are members of the Red Cross Club experienced some of the cleanup work in Dana, where a tornado also struck. President of the IVCC Red Cross Club Lillian Sparks said, "The devastation that PTK member Adam Hoye and I saw was unimaginable. Debris was scattered for miles and miles. We saw what was left of buildings laying in piles. We saw cars and houses with all the windows blown out, and personal belongings scattered everywhere." Sparks and Hoye helped with well-being checks, needs assessment and providing meals with the Salvation Army until power was restored. "The most amazing thing that we witnessed was how the small community of Dana came together as a family to help each other and clean up the destruction that the tornado left behind," she said. Hoye, president of Phi Theta Kappa, said, areas like Dana suffered the same effects as even harder hit areas like Washington. "They all have gone through the same affect whether their house or their belongings were just taken away. But I say as the same, because we all do not like seeing the devastation that occurs to other people. So we are all in shock-n-awe, we all wish that it didn't happen at all, and we all want to just be able to rush to where needed to see how much of a help we can be."
Even on social networks like Facebook, one can see how great the damage is and how others are helping. Some students have taken part in Facebook pages that area collecting items that were lost in the devastation to try to return them to their owners. For example, Smith said a pair of jeans was found in Streator with a man's checkbook in the pocket. Sparks said those who feel like helping out or who know someone who was hurt by the destruction of the tornado and needs help should contact the local Red Cross chapter for assistance, (815) 223-0922.