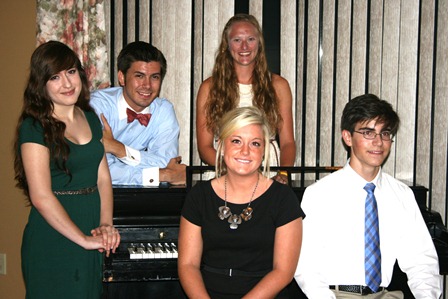 Nadia Churchill-Gilstrap of Princeton was named 21st Century Scholar at the Society's seventh annual dinner at Deer Park Country Club.
Along with the honor, Churchill-Gilstrap, Princeton High School's 2012 valedictorian, will receive $3,500 for tuition, fees, books and expenses.
Four other finalists: Michayla Fassino of Peru (special education), Alexander Groh of Ottawa (petroleum engineering), Maximilian Halm of La Salle (political science) and April Kutz of Oglesby (mechanical engineering) will each receive $2,500.
Honorable mention winners Alexandria Braboy of Dalzell (journalism), Candace Hall of Streator (nursing), Jeffrey Hamilton of Ottawa (molecular engineering), Hannah Sons of Dalzell (speech pathology) and Joseph Sydlowski of Peru (engineering physics), will each receive $1,000.
Churchill-Gilstrap will transfer to the University of Illinois next fall before moving on to Northwestern University's Feinberg School of Medicine or the University of Chicago's Pritzker School of Medicine to specialize in reconstructive plastic surgery.
In her first year at IVCC, Churchill-Gilstrap completed 45 hours with a perfect 4.0 GPA. At Princeton High School, she was an award-winning painter and sculptor.
Honors Program advisor Adam Oldaker said, "Her dual interest in the sciences and the arts perfectly demonstrates her Renaissance spirit. In this world, there are some very fortunate and gifted people who can achieve success at any endeavor they undertake – Nadia is one of them."
The 21st Century Scholars Society rewards IVCC's most promising second-year students – all having a minimum GPA of 3.5 as well as extensive college involvement and community service.
The Society is currently made up of 26 members each contributing $500 annually to fund the scholarships.
For information on joining the Society, call Fran Brolley at (815) 224-0466.