Scholarship finalists named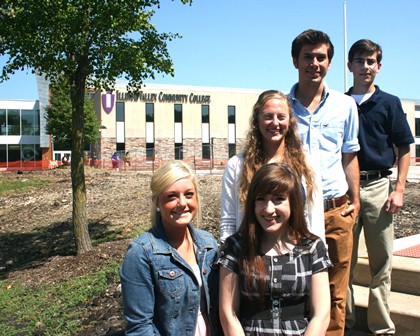 The Illinois Valley Community College Foundation's 21st Century Scholars Society will name its 2013 Scholar from among five finalists Thursday, Sept. 5 at the Society's seventh annual dinner at Deer Park Country Club northeast of Oglesby.
Finalists for the $3,500 scholarship which honors IVCC's most promising second-year students are:
Michayla Fassino, the daughter of Mike and Dee Fassino of Peru, a graduate of La Salle-Peru Township High School and a member of the IVCC softball team. Next fall, Fassino will transfer to Illinois State, Eastern Illinois or Northern Illinois to pursue a career in special education.
Nadia Churchill-Gilstrap, the daughter of Barry and Jenny of Princeton, was the 2012 valedictorian at Princeton High School. She will transfer to the University of Illinois next fall before moving on to Northwestern University's Feinberg School of Medicine or the University of Chicago's Pritzker School of Medicine to specialize in reconstructive plastic surgery.
Alexander Groh, the son of Michael and Jennifer Groh of Ottawa, was homeschooled and went on to become an Eagle Scout. For his Eagle Scout service project, Groh organized the painting of a dilapidated cinder block building at Buffalo Rock State Park. He will transfer next fall to a Texas university to pursue a degree in petroleum engineering.
Maximilian Halm, the son of Jay and Rendy Halm of La Salle and a graduate of St. Bede Academy, will transfer to the University of Illinois-Springfield, Illinois State University or Loyola University to pursue a political science degree and may attend law school.  Halm was State Sen. Sue Rezin's (R-Morris) 2012 campaign field director for the western side of her district and a page at the 2012 GOP National Convention in Tampa.
April Kutz, the daughter of Mike and Liz Kutz of Oglesby, is President of IVCC's Student Government Association and will pursue a degree in mechanical engineering at Bradley, NIU or Wisconsin-Platteville next fall. Kutz is captain of the college tennis team and plays the flute and piccolo in the IVCC Wind Ensemble.
On Sept. 5 at Deer Park Country Club, all finalists will be profiled and will speak before the 21st Century Scholar is announced.
Aside from the $3,500 winner, the other four finalists will each receive $2,500 for tuition, fees, books and expenses.  All of the finalists have  a minimum GPA of 3.5 as well as extensive college involvement and community service.
In addition to the finalists, five honorable mention students will receive $1,000 each:
Alexandria Braboy, the daughter of Cheryl and Pat Braboy of Dalzell and a graduate of St. Bede Academy, will study journalism at the U of I next fall.
Candace Hall, the daughter of Joan Dittmer and Jim Hall of Streator and a Streator High School graduate, is a first year nursing student.
Jeffrey Hamilton of Ottawa is married to Karen Hamilton and plans to study molecular engineering at the U of I next fall.
Hannah Sons, the daughter of Shawn and Janel Sons of Dalzell and a St. Bede graduate, plans to study speech pathology at ISU.
Joseph Sydlowski, the son of Karen and Greg Sydlowski of Peru and LP's 2012 salutatorian, will study engineering physics at the U of I next fall.
The 21st Century Scholars Society is currently made up of 26 members each contributing $500 annually.
For information on joining the Society, call Fran Brolley at (815) 224-0466.