Q&A: Stecken joins nursing faculty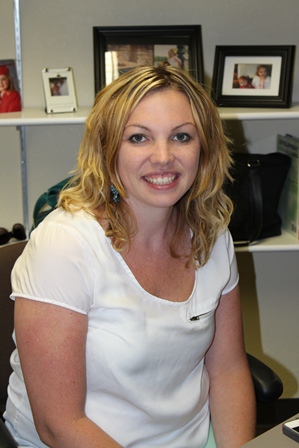 Where are you from?
Ottawa
Where did you attend college and what degree do you hold?
Bradley University- Bachelors in Nursing
Olivet Nazarene University-Masters of Science in Nursing
What classes are you currently assigned?
Nursing 1201
Are you new to teaching?  
Yes.
What are your impressions, not only of the students, but also the atmosphere at IVCC, and your fellow faculty and staff?
I have been very impressed on the focus the faculty have not only for the curriculum but for the student themselves. The faculty and staff have been very accommodating making me feel very welcomed. The students have a real drive here and are focused on achieving their goals.
So far, what is your favorite aspect of IVCC?
The friendliness and of course the bookstore, love to shop!
What is your favorite thing about the Illinois Valley area?
My favorite thing about the Illinois Valley is that the majority of my family live in the area. I have a large family and I enjoy spending time with them so I happy to have them in the area.
What should a student know about you?
I am excited to join the faculty at IVCC because I love to see people gain knowledge and apply it. I have high expectations because I think as a student you yourself should have high expectations.