Need a ride? BPART can help!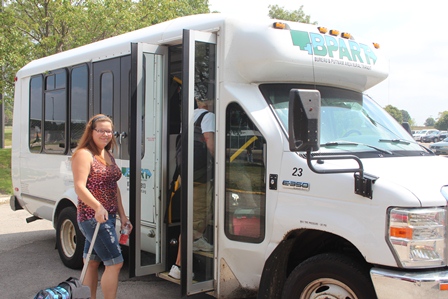 Do you or someone you know need transportation to IVCC?
The Bureau & Putnam Area Rural Transit (BPART) busing system is offering their third year of rides to students of IVCC who reside in Bureau or Putnam County to the college for $5 round trip fares.
Tracy Morris, associate vice president for student services, said the BPART system has opened doors to students of IVCC because it makes it possible for students to get to classes by a reliable means and at an affordable price.
The bus comes to IVCC at 8 a.m., 1 p.m., and 4:30 p.m. People are able to use cash, credit and debit cards, or purchase Punch cards (pre-purchased cards that have $30 or less to use on BPART).
Their office hours are Monday through Friday from 6:45 a.m. to 5 p.m. If you are requesting a ride, call their number at 877-874-8813 24 hours in advance and before noon.
For more information, check out their website at www.ridebpart.org or follow their Twitter page @RideBPART.
For those students who live in La Salle County, a busing system might be making its way to IVCC as early as next semester.
The administrator of the North Central Area Transit (NCAT) busing system, Jaime Blatti, has said that NCAT and IVCC have been working together to start this transportation system for students in La Salle County.
NCAT has ordered six vehicles from the Illinois Department of Transportation, including a 22-passenger vehicle that will travel from Ottawa to the Oglesby campus.
Morris shared that in the spring of 2013, 19 percent of IVCC students lived in Ottawa followed by 17 percent of students living in La Salle and Peru combined, and Streator with 12 percent.
La Salle County residents can visit the NCAT website www.ridencat.com for more information.