Creatures on Campus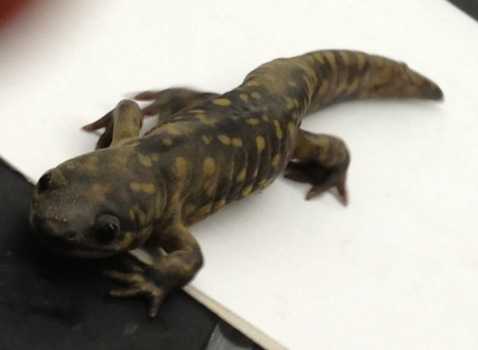 Students haven't been the only things arriving to campus lately.   On Monday, Aug. 26, Kurt Hoffman of Vissering Construction Co. gave a salamander he found on the east campus to Lauri Carey, IVCC's Horticulture program coordinator and instructor.
Carey brought the salamander to the Life Science Lab where, along with instructors Lee Ann Johnson and Sue Caley Opsal, she measured the salamander to be 38.26 grams and 18 centimeters long.
The salamander was later identified by Bob Massey, a District Wildlife Biologist for the Illinois Department of Natural Resources, as a Tiger Salamander. Even though the Tiger Salamander is not a protected species, Carey released the salamander back into the wild near the East Campus at the suggestion of Massey.
However, the salamander was not the only animal visiting IVCC.  On Wednesday, Aug. 21, a bat was spotted in the math lab. Two county police officers who happened to be touring the building eventually cornered and then captured the bat along with the help of an IVCC security guard.
Who knows what animal will come to visit next.