Campus Care: IVCH expands hours for health service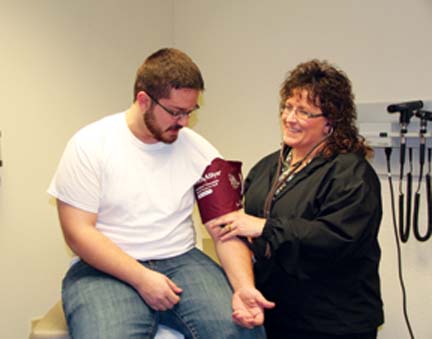 In an effort to make on-campus medical services more convenient to use for students and staff at Illinois Valley Community College, the CampusCare Clinic at IVCC sponsored by Illinois Valley Community Hospital recently expanded its hours.
IVCH CampusCare is now open 21 hours a week instead of the 12 hours per week it had been open.  The new daily times are  Monday 1-3:30 p.m.; Tuesday 7:30 a.m.-3:30 p.m.; Wednesday 1-3:30 p.m.; and Thursday 7:30 a.m.-3:30 p.m. CampusCare is closed on Friday.
The expansion in hours was announced even though CampusCare was not widely used by students in the service's first year.
Tracy Morris, IVCC's associate vice president for student services, said "When IVCC received feedback from IVCH about the limited use of the IVCH facility during the past semester, we made the decision to engage students in a series of classroom focus groups to gain information about the services on campus."
IVCC staff conducted 11 focused discussions with over 300 students in a variety of classes, asking general questions regarding the IVCH Campus Care initiative. Morris said the focus groups revealed that the majority of students didn't know that the Campus Care option existed on campus, and students didn't know what the services were that were offered.
"Because of this lack of knowledge, we are committed to working with IVCH to expand the marketing and education efforts on campus to provide the needed information for students." Morris said. "We also found that need for services  was evident through the lunch hour, so we are glad that IVCH was able to expand services during this time when many students have a break or are finished with classes."
Based on student feedback, IVCC and IVCH are working together to create visible signage, improve materials that outline the services, and do more in-class education for students regarding the services available.
IVCC officials believe that having health service on campus is needed.
"The opportunity for students to have a low-cost, accessible, and convenient health care facility like this provided by IVCH is a great benefit to our students," Morris said. "When students work outside of school, like a majority of IVCC students do, they may not have as many chances to see their primary care physician or to utilize an outside fast-care facility. Having IVCH on-campus for an increased number of hours will provide greater opportunities for students to utilize the services."
Located in room C105 B (near the cafeteria), the clinic charges a flat $59 fee per patient visit.  Insurance co-payments are accepted and patients who are covered by the state of Illinois' Medicaid program are also welcome.
Modeled on the IVCH FastCare clinic at the Peru Walmart, IVCH CampusCare offers similar services, including treatment of cold and flu symptoms,  ear infections, sore throats, bladder infections and other minor ailments.  Some lab services–including rapid strep testing and pregnancy tests—are included in the $59 fee.
Morris said, "One of the greatest things that I learned about Campus Care is that while there is a $59 charge for services, those individuals with insurance coverage, including Medicaid, will pay the current co-pay for the services and will not have to pay the $59 up-front."
IVCH CampusCare is staffed by certified family nurse practitioner Chris Greene.  For more information, call 815-224-0896.