New recycling plan adopted for college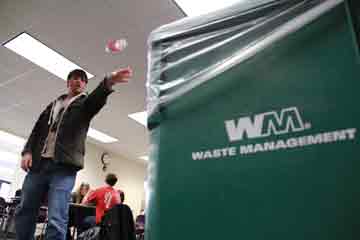 Students walking around campus should be noticing newer and larger green containers around campus to handle their recycling. The IV Sustainability group has helped to change IVCC's recycling system to a new "single-stream recycling" system provided by Waste Management.
Jared Olesen, sociology professor and student adviser for IV Sustainability, says, "You can throw anything recyclable into these containers, all in one container. Everything can go into the recycling containers but Styrofoam, plastic bags, and food. Plastic bottles, any other kind of plastics, metals, and any kind of paper or cardboard can all go in there."
The program is still in progress to create "waste stations" where there will be a green container along with a regular garbage can, with diagrams as to what students should put where to make their school more "green."
"Eventually, we hope that the rest of the blue containers will be replaced and we can pair each recycling container with a garbage container," said Olesen. "We don't have this done yet, nor is it organized, but eventually, we hope to set it up that the 'default' choice is to recycle. We'd like to have a sign that describes what can or cannot be recycled along with an image of recycled material and a landfill. If you have a picture of a landfill with Styrofoam, plastic bags, and food, then you guide people toward making the more responsible decision."
One of the interesting things so far is figuring out how quickly the containers need to be emptied. The speed that containers are filled is determined by many different factors, including the location of the container and how quickly students respond to the containers themselves. Another thing is that the IV Sustainability group is responsible for emptying the containers, and they hope to provide students an easy opportunity to get involved on campus.
Olesen said, "We want students to feel a sense of responsibility and give them a sense of ownership over one of the sustainability efforts at IVCC."
There's a core membership of six or seven people that head up IV Sustainability and just over 25 people involved in the facebook group for the club. Any students interested in the group should contact Olesen or attend an IV Sustainability meeting Mondays at noon in room D324.